Sheriff Troy D. Berry and the Charles County Sheriff's Office are pleased to announce the arrival of Copper, the newest addition to the K9 Unit. Copper is a 10-week-old bloodhound from Lietchfield, KY, and will soon begin training to work alongside his partner, Pfc. Darin Behm.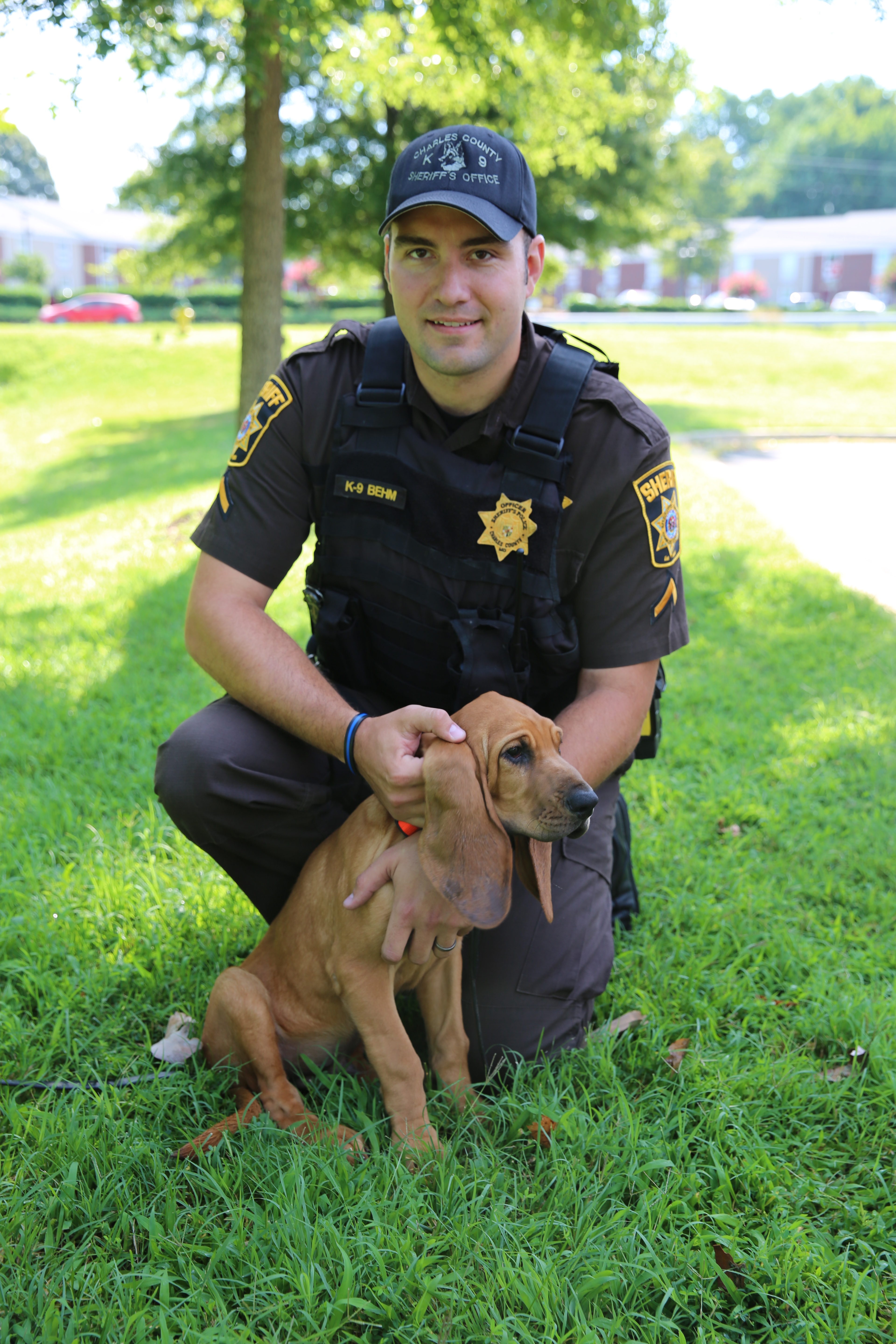 Pfc. Behm, a K9 Officer with the CCSO, said that Copper is a fifth generation man-trailing bloodhound, meaning that he is trained specifically to follow certain scents. Both of his parents are used for search and rescue across the state of Kentucky as well as surrounding states.
"He will be used mostly for search and rescue efforts to track missing persons," Behm said. Copper will also be trained in aged and extended distance tracks. Copper's training is expected to take approximately five to six months.
For now, Copper is settling into life as a puppy with Pfc. Behm, his wife, Laura, and their two children, Hunter (4) and Kenley (1). Hunter has taken a particular liking to him and was even the one to give Copper his name.
Sheriff Berry and the CCSO would like to thank Judy Braun from Bluegrass Bloodhounds in Lietchfield, KY, who was Copper's original owner. Sheriff Berry also thanks the generous organization, who wishes to remain anonymous, who donated the funds that made Copper's purchase possible.
Charles County Crime Solvers offers rewards of up to $1,000 for information that leads to the arrest or indictment of a person responsible for a crime in Charles County. Anyone with information about an unsolved crime or the location of a fugitive may contact Charles County Crime Solvers by calling 1-866-411-TIPS, texting CHARLES + the tip to CRIMES (274637) or submitting tips online at tipsubmit.com. All individuals who provide tips through Crime Solvers will remain anonymous. Learn more at the CCSO's website.
The Charles County Sheriff's Office is a full-service law enforcement agency comprised of more than 600 police, corrections and civilian personnel responsible for protecting more than 150,000 residents. The CCSO was accredited by the Commission on the Accreditation of Law Enforcement Agencies (CALEA) in 2001 and has been designated as a CALEA Gold Standard of Excellence agency since 2011. Established in 1658, the CCSO is one of the oldest law enforcement agencies in the United States. For more information, visit www.ccso.us.      
###