Charles County Sheriff Troy D. Berry is proud to announce the Southern Maryland Criminal Justice Academy (SMCJA) celebrated the graduation of sixteen correctional officers from the Corrections Entrance Level Training Program (CELTP) at a ceremony held March 18 at Maurice McDonough High School in Pomfret.
Eight of the graduates will work at the Charles County Detention Center, five will head to the St. Mary's County Detention Center, and three will be employed with the Calvert County Detention Center. "We are proud of all of the graduates. They will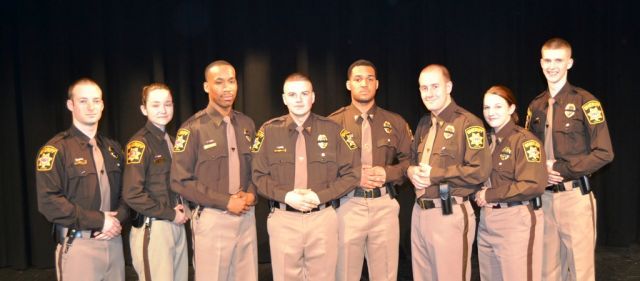 walk a tough beat, but the job itself is truly rewarding," said Sheriff Berry. Sheriff Berry emphasized four areas of importance for graduates: Leadership, Integrity, Teamwork, and Excellence.
Director of the SMCJA, F/Sgt. Keith Hicks, welcomed the graduates, their families and friends and spoke about the 10-week training program that started January 9 and included 382 hours of instruction.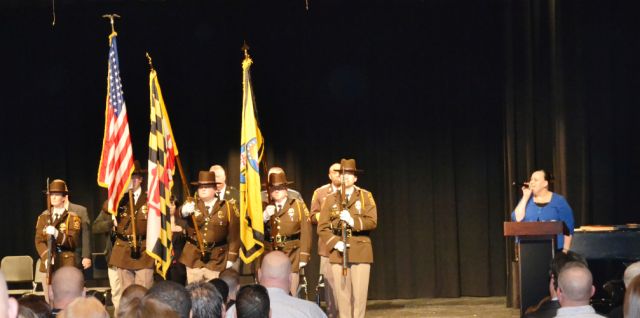 During the ceremony, SMCJA instructors presented awards to graduates who excelled in several categories: Charles County Correctional Officer Dylan Chadbourne received the Scholastic Award for earning a 99.2 percent grade point average, the highest in the class; the class, as a whole, boasted a 96.2 percent GPA. Chadbourne also won the Steve Allen Award named after one of the original founders of the SMCJA who died of cancer several years ago. Regarding the award, Acting Director of the Charles County Detention Center, Deputy Director Brandon Foster, said, "Being selected for the Steve Allen Award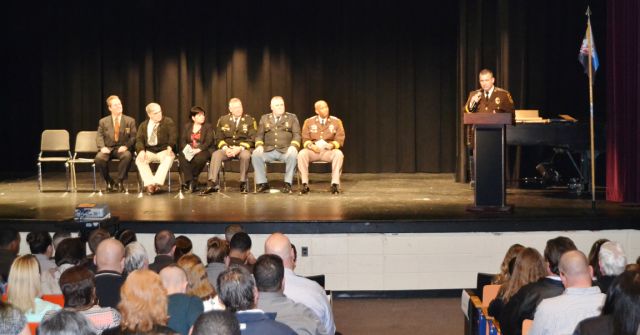 is highly commendable. The recruit demonstrated strong leadership, scholastic aptitude, and succeeded highly in all training categories." Charles Padgett won the Physical Training Award, scoring 758 out of 800 points during PT tests administered at the beginning and end of the training program. The class motto, chosen by the officers at the beginning of the training program, was "Always Ready, Always There."
Jane Sachs, Director of Correctional Training, Maryland Police and Correctional Institutes Training Commission, shared opening remarks. The Academy's Board of Directors — Charles County Sheriff Troy D. Berry, St. Mary's County Sheriff's Captain Michael Merican (representing Sheriff Tim Cameron), and Calvert County Sheriff
Mike Evans — also spoke about the graduates' new career. Deputy Andre Mitchell and Mrs. Joy Mitchell of the Calvert County Sheriff's Office performed the national anthem and the Charles County Sheriff's Office Honor Guard presented the colors. Charles County Correctional Officer graduate, Angela Campbell was the class speaker. Ed Morony of the College of Southern Maryland spoke about an articulation agreement between the Academy and the College that provides each graduate with six college credits toward a criminal justice degree. Reverend Steve Davis, a Charles County Sheriff's Office Chaplain, delivered the invocation and benediction.
The Southern Maryland Criminal Justice Academy congratulates the following graduates:
Charles County Sheriff's Office:
Bryce Bagley
Angela Campbell
Dylan Chadbourne
Octavius Hinnant
Trent King
Robert Moy
Charles Padgett
Jessica Sweeney
St. Mary's County Sheriff's Office:
Dianne C. Carty
Travis J. Howard
Zachary W. Jerew
Peggy A. Sparks
Steven M. VanDevander, Jr.
Calvert County Sheriff's Office:
Rasheed Immam
Jessica Skyrm
John Zalusky, II
Academy Staff:
Director: F/Sgt. Keith Hicks, Calvert County
Assistant Director: Joseph Young, St. Mary's County
Class Coordinator: Cpl. John Hotchkiss, Calvert County
Staff Instructors:
CFC Benjamin Luffey, St. Mary's County
Sgt. Harry Ivers, Charles County
Cpl. Michael Licausi, St. Mary's County
Cpl. Brianne Gray, Calvert County
Cpl. Joseph Piazza, Charles County
Jennie Wood, Charles County
Administrative Assistants:
Kate McDonald
Maureen Uebelhoer 
Charles County Crime Solvers offers rewards of up to $1,000 for information that leads to the arrest or indictment of a person responsible for a crime in Charles County. Anyone with information about an unsolved crime or the location of a fugitive may contact Charles County Crime Solvers by calling 1-866-411-TIPS, texting CHARLES + the tip to CRIMES (274637) or submitting tips online at tipsubmit.com. All individuals who provide tips through Crime Solvers will remain anonymous. Learn more at the CCSO's website.
The Charles County Sheriff's Office is a full-service law enforcement agency comprised of more than 600 police, corrections and civilian personnel responsible for protecting more than 150,000 residents. The CCSO was accredited by the Commission on the Accreditation of Law Enforcement Agencies (CALEA) in 2001 and has been designated as a CALEA Gold Standard of Excellence agency since 2011. Established in 1658, the CCSO is one of the oldest law enforcement agencies in the United States. For more information, visit www.ccso.us.      
Media Contact
Diane Richardson
301-609-6557
richardsond@ccso.us