The following is a sample of recent Charles County Sheriff's Office investigations. For information about crimes not included in this report, visit CrimeReports.com and search by county, city, zip code or street address.
ROBBERY: On July 7 at 12:05 a.m., officers responded to Grouse Place in Waldorf for the report of a strong arm robbery. The victim reported that he was approached by two males in their late teens or early twenties while riding his bike near his residence. The suspects displayed a knife, assaulted the victim and then stole his money and bike and fled. POII J. Micklus is investigating.
THEFTS FROM VEHICLES: From June 16 to July 7, 14 cars have been broken into in the Huntington, Carrington and Wakefield areas of Waldorf. In more than seventy-five percent of the thefts, the cars had been unlocked and valuables left inside. Items stolen include money, purses, wallets, laptops, small valuables and sunglasses. Residents are advised to remove valuables from vehicles, keep vehicles locked and keep exterior house lights on if possible. 
ATTEMPTED ROBBERY: On July 6 at 8:25 p.m., officers responded to a Subway restaurant located in the 4600 block of Indian Head Highway in Indian Head for the report of an armed robbery. The victims, both employees of Subway, reported that two males entered the store wearing black masks. One suspect, wearing black pants and a purple jacket, pulled out a handgun and approached the employees who then ran into the bathroom and locked the door. The suspects left in a black Mercedes with DC tags and were last seen turning onto Woodland Drive toward Strauss Avenue. Nothing was reported stolen. PFC M. O'Shields is investigating.
THEFT OF DOG: UPDATE: This dog has been found. On July 5 between 10 a.m. and 8 p.m., unknown suspect(s) f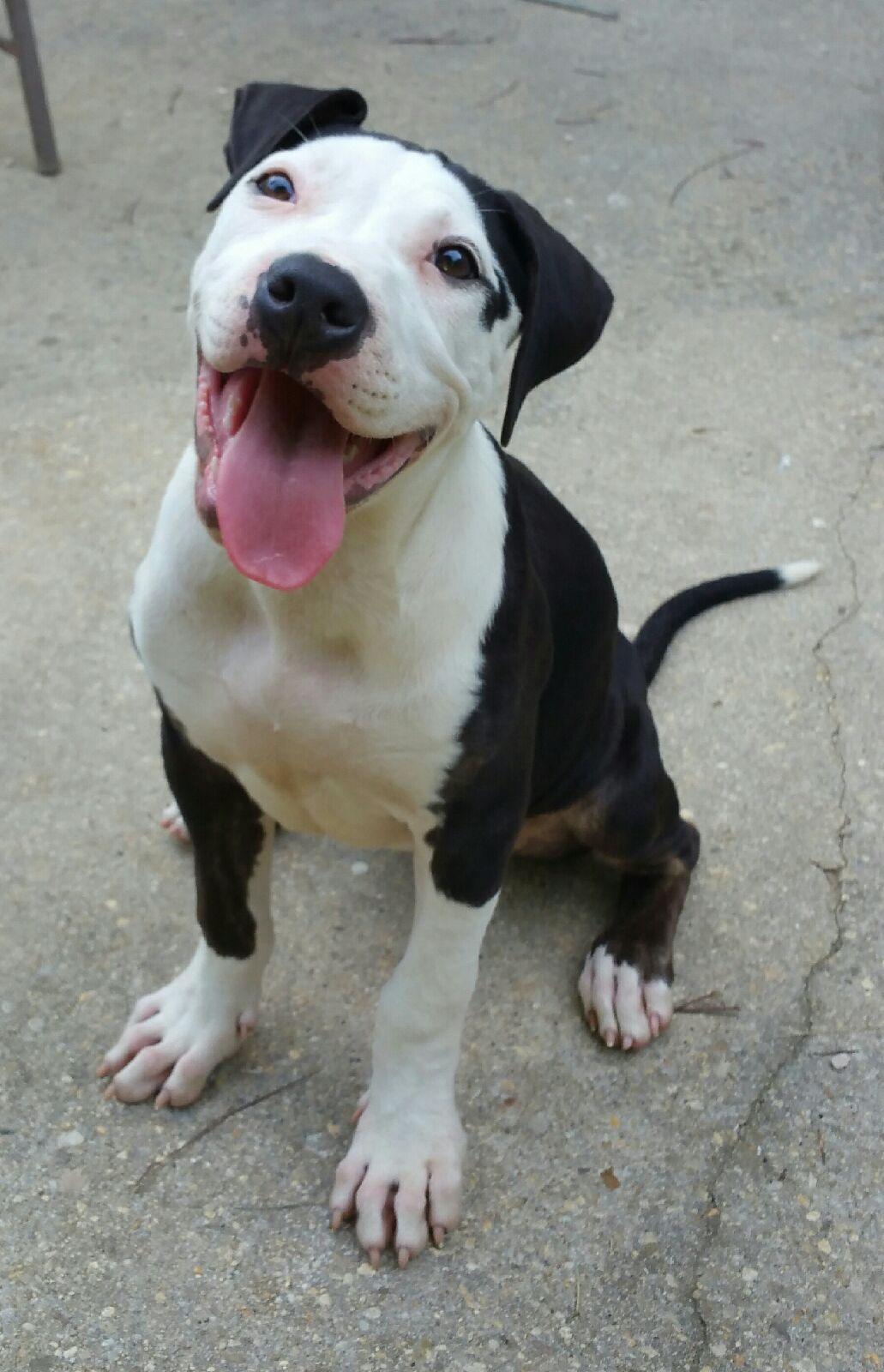 orced open a padlocked fence in the 100 block of Riverside Run Drive in Indian Head and stole a 3-month-old pit bull dog. The dog (pictured right), who answers to the name "Prada", has a white face, black ears, a black spot next to her left eye and a white tip on her tail. Anyone with information should contact PFC D.E. Raby at (301) 932-2222.
PEDESTRIAN INJURED IN HIT AND RUN: On July 4 at 11 p.m., officers responded to the scene of a pedestrian hit and run. Witnesses reported that a passenger vehicle was travelling north on St. Ignatius Drive exiting Bannister Circle when it failed to stop for several pedestrians who were crossing the roadway in a marked crosswalk. The driver struck a 10-year-old boy and fled. The victim was transported to Children's National Medical Center with serious but non-life-threatening injuries. Cpl. B. Saunders is investigating. Charles County Crime Solvers is offering a cash reward for information leading to the arrest of the driver. Tipsters may call 1-866-411-TIPS.
MAN ARRESTED FOR STEALING MAIL:  On July 4 at 6:48 a.m., officers responded to several reports regarding a suspicious subject who was stealing mail from personal mailboxes along Bensville Road in Waldorf. As officers arrived, they learned several citizens followed the subject and observed him drop a large stack of mail in the front yard of a house on Bensville Road. Officers located the subject, Sergio Alexander Garay, 23, of Waldorf and took him into custody. The discarded stolen mail was recovered and it was discovered that mail had been stolen from about 40 mailboxes on Eutaw Forest Drive, Rebecca Place and Bensville Road. Garay was arrested and charged with theft. POI A. Bringley is investigating.
STOLEN MOTORCYCLE RECOVERED: On July 1 at 2:57 p.m., officers responded to a citizen's call of a person recklessly driving two motorcycles – a black motorcycle and a white motorcycle – at the same time up and down Community Drive in Waldorf while children were playing in the area. Upon arrival, officers observed a white Suzuki motorcycle and a black and red Yamaha R6 motorcycle parked by a garage in the 2200 block of Community Drive and made contact with the driver, Antwain Jenkins. During the investigation, a registration check of the black and red Yamaha R6 motorcycle showed the motorcycle had been reported stolen on May 21 by the Prince William Virginia Police Department. The motorcycle was recovered from the scene. Jenkins was arrested and charged with theft. PFC V. Warker is investigating. 
THEFT FROM CONSTRUCTION SITE: Sometime between July 1 and July 2, unknown suspect(s) entered a construction site at the 10000 block of Berry Road and broke a lock to a trailer. The suspect(s) took several pieces of construction. POI J. Pogar is investigating.
SUSPECT CHARGED IN ATTEMPTED BANK ROBBERY: On February 13 at 11:47 a.m., officers responded to the SunTrust Bank at 3070 Leonardtown Road in Waldorf for the report of a bank robbery. The investigation revealed the suspect entered the bank with an adolescent child who waited near the door. After approaching the teller's window, the suspect passed a threatening note to the teller which stated  he was armed and dangerous and requested all of the money from the drawer. During the course of the investigation, Joshua Micah White, 21, of Washington D.C. was identified as the individual who passed the note. White was arrested at his home on May 25 by members from the U.S. Marshals Service. White was extradited to Charles County on June 30. POI C. Gregory investigated.
PEEPING TOM ARRESTED: On June 30 at 8:41 p.m., officers responded to the 2600 block of Hamilton Place in Waldorf for the report of a peeping tom. A security guard observed the suspect walk to the rear of an apartment building and stare into an apartment window. The guard approached the suspect and detained him until officers arrived. The victim stated she was watching television when she observed the suspect looking into her window and that he walked away after making eye contact with her. Herman Festa Stringer, 52, of Waldorf was arrested and charged with peeping tom. PFC R. Walls is investigating.
Report prepared by Janelle Love, CCSO
Charles County Crime Solvers offers rewards of up to $1,000 for information that leads to the arrest or indictment of a person responsible for a crime in Charles County. Anyone with information about an unsolved crime or the location of a fugitive may contact Charles County Crime Solvers by calling 1-866-411-TIPS, texting CHARLES + the tip to CRIMES (274637) or submitting tips online at tipsubmit.com. All individuals who provide tips through Crime Solvers will remain anonymous. Learn more at the CCSO's website.
The Charles County Sheriff's Office is a full-service law enforcement agency comprised of more than 600 police, corrections and civilian personnel responsible for protecting more than 150,000 residents. The CCSO was accredited by the Commission on the Accreditation of Law Enforcement Agencies (CALEA) in 2001 has been designated as a CALEA Gold Standard of Excellence agency since 2011. Established in 1658, the CCSO is one of the oldest law enforcement agencies in the United States. For more information, visit www.ccso.us.      
Media Contact
Diane Richardson
301-609-6557
richardsond@ccso.us