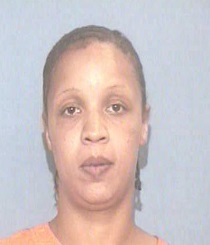 Charles County Sheriff's detectives have obtained an arrest warrant charging Crystal Renee Brown, 39, of no fixed address, with forgery and theft in connection with a mail theft scheme. Brown is suspected of forging checks (usually bill payments) that were stolen from private residential mailboxes and marked as outgoing mail.
In most cases, residents left their bills in their mailbox for a postal worker to pick up, but prior to pick up someone stole the mail and later many of the checks intended for bill payments were altered. Detectives with the Charles County Sheriff's Office identified Brown, who also uses the name Crystal Renee Johnson, as one of the subjects forging the checks and later cashing them at various banks throughout the region.
The CCSO is working with other law enforcement agencies and the US Postal Service and pursuing leads regarding additional suspects. These crimes have occurred in different counties throughout the state and in Washington, D.C. and Virginia. Anyone with additional information about mail thefts or anyone who knows of Brown's whereabouts is asked to call Det. E. Clark at (301) 609-6499. Tipsters wishing to remain anonymous may call Charles County Crime Solvers at 1-866-411-TIPS. The CCSO suggests the following safety tips regarding outgoing mail:
Don't put cash or checks in outgoing mail in front of your residence. Always take outgoing mail to the post office for delivery.
Check your mail often during the holidays as criminals often look in mailboxes for cards containing money or gift cards.
Be aware of anyone accessing mailboxes who isn't your normal mail carrier. Call the CCSO if you see anything suspicious.
Charles County Crime Solvers offers rewards of up to $1,000 for information about a crime in Charles County that leads to an arrest or indictment. Anyone with information about this incident is asked to contact Charles County Crime Solvers by calling 1-866-411-TIPS, by texting CHARLES + your tip to CRIMES (274637) or by submitting a web tip. All individuals who provide tips through Crime Solvers will remain anonymous.
Media Contact
Diane Richardson
301-609-6557
richardsond@ccso.us