Three CCSO Employees Win "Instructor of the Year" Awards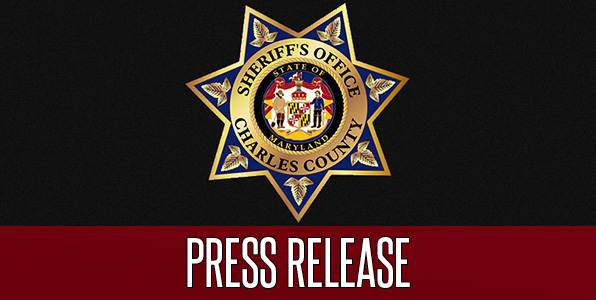 Maryland Police & Correctional Training Commissions Award "Instructor of the Year" to Three CCSO Officers
On Thursday, October 8, 2015, the Maryland Police & Correctional Training Commissions held its 15th Annual Instructor's Conference. This organization is "committed to the continuous improvement of these professions to better provide for the health, welfare and safety of the people of Maryland." At this conference, officers from all over the state (including three from the CCSO) were recognized for their work as academy and non-academy instructors.
Corporal Jeremy Hebb, an instructor for the Southern Maryland Criminal Justice Academy (SMCJA), received an Academy Instructor of the Year award. Cpl. Hebb was assigned to the SMCJA for 3 years. His attention to detail was highlighted in the way he prepared for every class, and he brought a wealth of expertise to the academy. Cpl. Hebb holds instructor certifications in defensive tactics, chemical agents, firearms and the Emergency Vehicle Operator Course (EVOC). During his time at the academy, Cpl.  Hebb was a mentor not only to the recruits he taught but also to his fellow staff members.
Correctional Officer First Class Julie Young, a Field Training Officer (FTO) at the Charles County Detention Center (CCDC), was awarded a Non-Academy Instructor of the Year award. CFC Young goes above and beyond in her daily duties and as an instructor. She instructs courses during the CCDC's Annual In-service Training and is also a certified ASHI-First Aid, AED, and CPR
Instructor. CFC Young has a passion to teach and spread her knowledge and experiences to new officers and is known to place the agency's needs above her own. She has the ability to handle multiple trainees when needed, and she takes great pride in her abilities as an instructor and the capabilities of the new officers she trains when they complete the FTO Program. Due to her great communication skills, job knowledge, and willingness to help others, CFC Young is seen as a "go to" officer by many of her co-workers.
Mr. William "Bill" Siko, a part-time Firearms Instructor for the SMCJA, also received a Non-Academy Instructor of the Year award. Bill has been a firearms instructor for 25 years and, prior to his retirement in 2008, was the Captain of the United States Capitol Police Pistol Team. Bill is always willing to use his extensive experience to help solve shooting problems for his agency as well as other agencies' recruits attending the academy. Bill's expertise leads other instructors to seek out his advice and guidance for their own shooting needs.
"These three instructors are very deserving of this recognition," said Captain Michael McGuigan, Commander of the Training Division for the CCSO. "They are respected by the trainees and their peers for their dedication."
"Great instruction is essential for the future success of the agency," said Sheriff Troy Berry. "We are very proud of the commitment to leadership and integrity that has been displayed by Cpl. Hebb, CFC Young, and Mr. Siko."
Charles County Crime Solvers offers rewards of up to $1,000 for information that leads to the arrest or indictment of a person responsible for a crime in Charles County. Anyone with information about an unsolved crime or the location of a fugitive may contact Charles County Crime Solvers by calling 1-866-411-TIPS, texting CHARLES + the tip to CRIMES (274637) or submitting tips online at tipsubmit.com. All individuals who provide tips through Crime Solvers will remain anonymous. Learn more at the CCSO's website.
The Charles County Sheriff's Office is a full-service law enforcement agency comprised of more than 600 police, corrections and civilian personnel responsible for protecting more than 150,000 residents. The CCSO was accredited by the Commission on the Accreditation of Law Enforcement Agencies (CALEA) in 2001 and has been designated as a CALEA Gold Standard of Excellence agency since 2011. Established in 1658, the CCSO is one of the oldest law enforcement agencies in the United States. For more information, visit www.ccso.us.      
Media Contact
Janelle Love
301-609-6538
lovej@ccso.us