Hundreds of Officers, CCSO Employees, Military, Students, Teachers, and Families Expected to Participate in Event with Special Athletes
Help fuel the Flame of Hope: Join the Charles County Sheriff's Office for the Law Enforcement Torch Run for Special Olympics Maryland on June 4 at 9 a.m. in La Plata. This year's event is being dedicated to Diana Dennin, a supporter of the Special Olympics Torch Run and the wife of a CCSO officer. Diana died earlier this year after battling cancer.
Hundreds of runners and walkers from the CCSO and the community are expected to join and run with dozens of special athletes and their families. U.S. Marines from the Chemical Biological Incident Response Force at the Naval Surface Warfare Center in Indian Head will lead the runners behind this year's torch bearers, Charles County Public Schools teachers, Nancy Burch Hall and Keri Mona.
Charles County's Torch Run is one of multiple Torch Runs in Maryland, all of which converge at Towson University in Towson, Md., on Fri., June 5 to light the cauldron at the Special Olympics Maryland Summer Games Opening ceremony.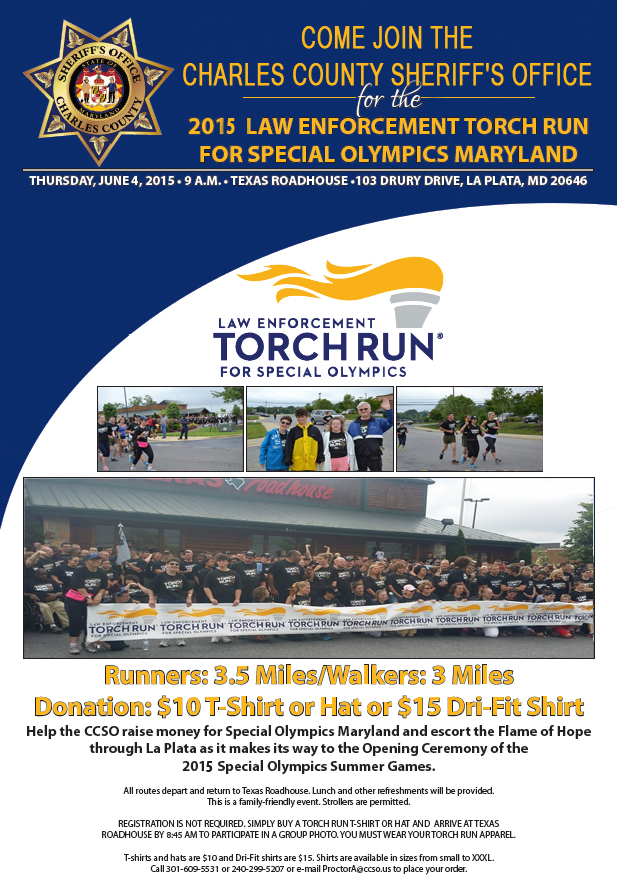 Two routes – a 3.5 mile route for runners and a 3 mile route for walkers – will depart Texas Roadhouse in La Plata and return there for lunch and other refreshments being provided by the restaurant's staff and other local businesses, including Chick-fil-A, Texas Roadhouse, St. Babes Tavern on the Green, T&J Barbeque, Mission Barbeque, and Kona Ice.
Registration is not required but participants must purchase a Torch Run T-shirt or hat and arrive at Texas Roadhouse by 8:45 a.m. to participate in a group photo. The various routes make the Torch Run suitable for all participation levels from experienced runners to leisurely walkers with children and strollers.
Torch Run shirts are $10 and available in sizes from small to XXXL. Dri-Fit shirts are also available for $15. Hats are $10. Contact Sgt. Proctor at 240-299-5207 or proctora@ccso.us to purchase your T-shirt or hat. If you would like to make a monetary donation instead, mail it to Charles County Sheriff's Office/Attention Sgt. Proctor/PO Box 189/La Plata MD 20646 and be sure to indicate your donation is for Special Olympics Maryland. If you are a local business and would like to donate your services, contact Sgt. Proctor. For more information about Special Olympics Maryland, visit www.somd.org.
The Charles County Sheriff's Office is a full-service law enforcement agency comprised of more than 600 police, corrections and civilian personnel responsible for protecting more than 150,000 residents. The CCSO was accredited by the Commission on the Accreditation of Law Enforcement Agencies (CALEA) in 2001 has been designated as a CALEA Gold Standard of Excellence agency since 2011. Established in 1658, the CCSO is one of the oldest law enforcement agencies in the United States. For more information, visit www.ccso.us.      
Media Contact
Diane Richardson
301-609-6557
richardsond@ccso.us