REGISTER FOR THE 2014 ZOMBIE INVASION 5K
The walking—and running!—dead are returning to La Plata for the Charles County Sheriff's Office's (CCSO) second annual Zombie Invasion 5K fundraiser for Special Olympics Maryland. The CCSO, Charles County Fraternal Order of Police Lodge 24 (FOP), and Charles County Correctional Officers Association (CCCOA) will host the 5K on Sun., Nov. 2, at Laurel Springs Regional Park located at 5940 Radio Station Road in La Plata.
The Zombie Invasion 5K is a fun, family-friendly event in which participants "transition" into zombies before either running or walking the 3.1-mile trail. The event is not to be confused with a zombie chase in which participants run from zombies. Last year, more than 600 zombie adults and children raised more than $20,000 for Special Olympics Maryland by participating in the event.
Zombies can pre-register for the 5K individually or in teams by visiting www.zombieinvasion5K.com. The cost to register is $25 for adult zombies and $20 for child zombies between 11 and 17 years undead. There is no registration fee for zombies 10 years undead or younger. Zombies who register by Oct. 21 will also be guaranteed to receive a commemorative T-shirt. The T-shirts are available in adult and youth sizes. Dri-fit shirts are also available for an additional $5 per zombie.
Zombies may also choose to register the day of the event but only a limited supply of T-shirts will be available. Race-day registration and check-in will be open between 8 and 10 a.m. During this period, volunteer makeup artists from the Port Tobacco Theater and local high school drama clubs will help participants transition into zombies by applying zombie makeup. Zombies who need help transitioning are encouraged to arrive early. Participants may also "zombify" themselves. The 5K begins at 10 a.m.
The zombie participants can choose to run the 5K as a race or to take a more leisurely, family-friendly, zombie-like pace. Strollers are welcome. The start times will be staggered to allow faster zombies to lead the way. The race portion for runners will be conducted using chipped timing. The runners may obtain their registration packets from the FOP Lodge located at 10285 Rosewick Road in La Plata on Oct. 30 from 6-8 p.m. or Nov. 1 from 10 a.m. to 1 p.m.
A light lunch will be served when the zombies finish the 5K. Additionally, the CCSO, FOP and CCCOA will present awards for the 5K race to the top zombie finisher in each age category, the overall top female zombie finisher, the overall top male zombie finisher and the top fundraising zombie team. They will also hold a zombie beauty contest.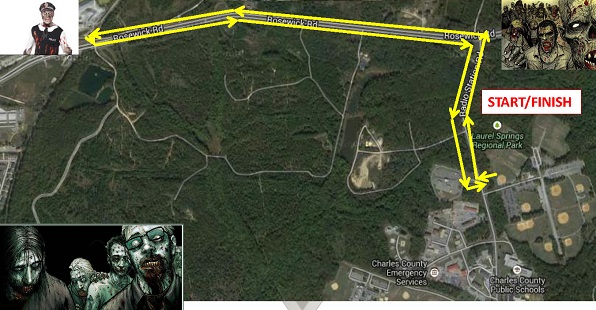 A map of the infected area is pictured at left. The right westbound lane of Rosewick Road will be closed to traffic during the race to protect the runners and walkers. It is not expected to significantly impact traffic. Zombie police officers will provide traffic direction.
Anyone with questions about the event may contact Sgt. Proctor at 240-299-5207 or proctora@ccso.us. Those who would like to make a monetary donation in lieu of participating in the 5K may mail it to Charles County Sheriff's Office/Attention Sgt. Proctor/PO Box 189/La Plata MD 20646; be sure to indicate the donation is for Special Olympics Maryland. Local businesses interested in donating services may also contact Sgt. Proctor. For more information about Special Olympics Maryland, visit their website.
Please note: WUSA 9 Meteorologist Erica Grow is regretfully unable to serve as our guest Master of Ceremonies as originally scheduled.