2016 Annual Report
The Charles County Sheriff's Office is accredited by the Commission on Accreditation for Law Enforcement Agencies.
2016 Fast Facts
County Population: 157,705
Sworn Officers: 306
Corrections Officers: 143
Court Security Officers: 10
Civilian Employees (Full Time and Part Time): 216
Calls for Service: 256,221
Arrests: 9,898
Motor Vehicle Citations: 51,242
DUI Citations: 521
Automobile Crash Deaths: 8*
Alcohol-Related Automobile Crash Deaths: 4*
* Statistics do not include Maryland State Police traffic fatality investigations.
Crime statistics for Charles County, to include crimes investigated by the Maryland State Police and the La Plata Town Police, are available in the Maryland Uniform Crime Report. Citizens can also search for crimes investigated by the Charles County Sheriff's Office using CrimeReports.com, which provides citizens with near instant access to calls for service data.
A Message from the Sheriff
It's been said that crime prevention is everyone's business. I couldn't agree more! If we are to be successful in keeping our communities safe, then everyone has a part. With that said, I am extremely grateful to live and work in a county where there are so many active community members who are willing to work with us to achieve our public safety goals.
In 2016, we launched the first ever Citizens Police Academy for which many community members applied. Though we were limited on the number of people who could attend, having so many people interested was a great sign that our residents wanted to be a voice for our agency. This, combined with great attendance at events such as National Night Out and our Citizens Advisory Meetings, as well as the number of citizens who contribute to safety by calling to report suspicious activity or concern for others that they believe may be in trouble, all display that citizens in Charles County care about their community. Without our community's support, we would be unable to make significant progress in our continuous efforts to reduce crime and strengthen police and community relations in Charles County.
In 2016, Charles County saw a 10.9 percent decrease in crime. This is especially significant considering the challenges brought on by an ever-increasing county population and continued budgetary restrictions. We maintain a strong public safety strategy, which includes highly visible patrols, collaboration between the agency's divisions and community law enforcement partners, and outstanding investigative work that leads to the arrests of criminal offenders.
Our community outreach efforts continue to be an integral part of our work. Now, more than ever, building relationships is key to successful policing. Throughout the year, we host several youth events and camps, collect food and toys for those less fortunate, host programs to reduce recidivism at the Detention Center, coordinate a safe driving program for our youth, and much more. In April we hosted a prayer breakfast and invited leaders from churches all around the county; this is an event we hope to continue and grow each year moving forward. CCSO employees volunteer to support many critical community organizations like Special Olympics Maryland, Christmas in April, United Way of Charles County, the American Cancer Society, and the Southern Maryland Food Bank. We are blessed to have the opportunity to help our friends and neighbors in any way that we can.
I take pride in the work that we do, the people that we employ, and our relationship with the citizens that we serve. Our goal moving forward is to keep crime on a downward trend while continuing to build upon the strong alliance with our community, and I feel great about where we are headed.
Thank you for your support.
Sincerely,
Sheriff Troy D. Berry
Our History
As the primary law enforcement agency in Charles County, the Charles County Sheriff's Office (CCSO), one of the oldest law enforcement agencies in the United States, is a full-service operation. The CCSO provides all the services commonly associated with police departments and sheriffs' offices and also operates the Charles County Detention Center.
The CCSO has a hallowed obligation to maintain law and order and to protect life and property. Centuries of growth and innovation have transformed how the CCSO fulfills its mission, but its rich history is an indelible element behind its modern achievements.
When the CCSO was established in 1658, it was staffed by only one law enforcement officer, Sheriff Nicholas Gwyther, who served dually as sheriff in St. Mary's County. Sheriff Gwyther's responsibilities were collecting taxes, serving warrants, apprehending and executing criminals, and occasionally investigating witchcraft. He conducted business wherever he could, usually at his home.
Nearly 100 sheriffs have served as Charles County's chief law enforcement officer since Sheriff Gwyther, and throughout the years these sheriffs have addressed the perpetually growing demand for law enforcement services, most of which are a result of commercial and residential growth. As the responsibilities of Charles County sheriffs grow, so too grows their contingent of personnel. Today, the CCSO employs more than 650 police, corrections, and civilian personnel.
As the CCSO transformed from a one-man operation into one of its community's largest employers, it expanded its physical presence in Charles County. In the 20th century, the Sheriff's Headquarters moved from the County Courthouse to an abandoned military site and then to a renovated truck stop, which now serves as the La Plata District Station. The current Headquarters, which sits adjacent to the La Plata station, opened in 2000 and is the first building erected specifically as the CCSO's flagship. Additional district stations are operated in Waldorf and Bryans Road. A Community Services and Property Management annex opened in 2005 beside the Charles County Emergency Operations Center, a state-of-the-art facility for police communications officers and the county's Emergency Services Department personnel.
The first county jail was built next to the county's original courthouse in Port Tobacco, the former county seat. The second jail was built in 1897 behind the current courthouse in La Plata and a third, which the CCSO still uses for Court Holding, was built beside it in 1926. A detention center behind the La Plata Station operated from 1981 to 1995 and reopened in 2007 as an annex of the current detention center.
The CCSO earned accreditation from the Commission on the Accreditation of Law Enforcement Agencies (CALEA) in 2001 and was successfully audited in 2004, 2007, 2010, 2013, and 2016. The CCSO earned CALEA's flagship status in 2010, designating it as one of the best among accredited agencies worldwide.
Mission and Values
MISSION STATEMENT
The men and women of the Charles County Sheriff's Office (CCSO) are dedicated to service through superior performance. We believe mutual respect, trust and pride in our organization, combined with traditional values and innovative techniques, will ensure the community's right to a safe environment.
VALUE STATEMENTS
The men and women of the Charles County Sheriff's Office are bound by a higher standard of conduct as exemplified in the following values:
Life: We believe the protection of life is our highest priority.
Respect: We believe in individual human dignity and the preservation of human rights under the rule and spirit of law, always treating others as we would like to be treated.
Integrity: We believe in maintaining the public trust by holding ourselves accountable to the highest moral and ethical standards.
Fairness: We believe in maintaining the delivery of service that provides fair and equal treatment to all citizens without regard to age, gender, race, creed, color, religion, or national origin.
Trust: We believe in order to provide effective service we must develop and maintain the confidence of the community.
Partnerships: We believe in working in partnership with the community and each other to identify and resolve problems and issues which affect the safety of our citizens.
Loyalty: We believe in an allegiance to the community, to the organization and to each other.
Professionalism: We believe in delivering a level of service which will reflect the pride we have in our community and organization.
The Year in Review
The year 2016 came with many triumphs and trials at the community and national levels. As a whole, our nation experienced an extremely difficult year with regard to police and community relations, but the CCSO proudly served a fantastic community. Throughout the year, hundreds of kind gestures poured in in various forms: cards, treats, pictures, hugs, and handshakes. While there were several tough incidents in our community, there were many more uplifting stories of compassion, kindness and heroism. Below we have highlighted the biggest events of 2016:
GOLD STANDARD: In August, the CCSO underwent a rigorous reaccreditation process by the Commission on Accreditation for Law Enforcement Agencies  (CALEA) and, after a thorough review of agency policies and procedures, received the Gold Standard Accreditation with a Meritorious Award.  "As an agency leader, I look at these assessments as a report card. We use this essential information as a reference to guide us as we move forward to policing in a more progressive and diverse community," said Sheriff Berry.
The CCSO received its first accreditation in 2001 and every three years since. Before the 2016 assessment got underway, Sheriff Berry instructed his Planning and Accreditation team to apply for the most comprehensive review of agency policies and practices with the strictest guidelines.
The CCSO underwent the on-site assessment process in August during which CALEA-trained assessors visited the agency to determine compliance with standards, view agency operations, conduct a public information session, and report their findings to the Commission for a final determination and accreditation status.
According to a report prepared by the assessors, the team found the Charles County Sheriff's Office to be well prepared, hospitable and exhibiting the highest levels of professionalism one would expect of a CALEA accredited agency. "During the static display and facility tour, the assessors were exceedingly impressed with all of our facilities, processes, operations and personnel," said Mrs. Reagan Henehan, who coordinated the onsite review.
"To obtain reaccreditation of this degree is remarkable," said Sheriff Berry, "and it is a testament to the work performed day in and day out by our dedicated employees."
DETENTION CENTER RECEIVES PERFECT SCORE IN STANDARDS AUDIT: In January, the Charles County Detention Center (CCDC) achieved a 100 percent compliance rating during an audit conducted by the Maryland Commission on Correctional Standards (MCCS).
The MCCS created standards to ensure correctional facilities in Maryland operate as safely, efficiently and professionally as possible. Representatives from MCCS conduct audits of each correctional facility in Maryland every two to three years to determine whether the facility meets the more than 100 standards of professional excellence. In 2001, the CCDC became the first agency in the state to achieve a perfect score during an audit and has since maintained a perfect rating, with audits in 2004, 2006, 2009, and 2012.
MCCS auditors examine all aspects of the CCDC, including security and emergency plans, to ensure the working environment for employees and the living environment for inmates is satisfactory. To meet the standards, employees must keep accurate and detailed records of every inmate including how they are classified, whether they require special diets, their hygiene items, all mail they receive, their financial accounts, their visitors, the religious and education services they use, disciplinary hearings and when, where and why they are transported. In addition, auditors review all operating records to ensure mandated rules are met. This includes all employee training and yearly visits by the Charles County Health Department, the Office of the State Fire Marshal and the Maryland Occupational Safety and Health office. CCDC staff must also keep a strict inventory of every key, pair of handcuffs, and tool within the facility.
"Our Corrections Division has one of the toughest jobs in the agency," said Sheriff Berry. "From the command staff to officers and support personnel, their dedication to maintaining custody and security of inmates, as well as offering a variety of programs to reduce recidivism and help inmates, is always evident. Their consistent perfect scores during the MCCS audits is a testament to their commitment and passion for their work."
CITIZENS POLICE ACADEMY: In September, the CCSO began its very first Citizens Police Academy (CPA), a 10-week program which offers citizens an inside look at law enforcement.
Participants learned about a wide range of topics including Patrol Procedures, Narcotics Investigations, Forensic Evidence, Criminal Law, Juvenile Issues, Use of Force, Criminal Investigations, and Search and Seizure. They also got a behind-the-scenes look at the CCSO Headquarters, Charles County Detention Center, Southern Maryland Criminal Justice Academy, and Crime Lab. Hands-on experiences included a Firearms Training Simulator (FATS) and crime scene processing.  Participants had the opportunity to ride with a police officer and to experience policing from an officer's perspective.
"My favorite part of the program was building relationships with members of the Charles County Sheriff's Office and getting a first-hand view/appreciation of the multitude of programs they are responsible for on a very limited budget and limited number of officers," said Dwayne Paro, CPA inaugural class member.
"The Citizens Police Academy is an invaluable addition to the programs offered by the Sheriff's Office. It will serve to strengthen the police-community relations in our county by offering citizens an understanding of what our job is like, while also opening up communication so that we may learn about citizens' views on our role in public safety," said Sheriff Troy Berry. "We are fortunate to have very positive relationships with the people in our community, and the Citizens Police Academy will help to build upon and reinforce that."
The CCSO plans to host the Citizens Police Academy annually in the fall.
A TOUCHING TRIBUTE: On August 30, the CCSO hosted a ceremony to honor the work and dedication of 28 retirees.
Members of the CCSO Honor Guard also placed a wreath at the base of the memorial to pay tribute to Cpl. Jamel Clagett, who died in the line of duty in December 2014 in a single-vehicle car accident.
"I am deeply humbled to be here today to acknowledge and recognize the 28 retirees whose names were recently added to this beautiful memorial, while remembering too, the life of our fallen brother, Cpl. Jamel Clagett #447, whose name was also added in this most sacred place," said Sheriff Troy Berry.
The Memorial Wall is located outside CCSO Headquarters and serves as a place to remember and reflect on those who honorably served the CCSO and the citizens of Charles County.
NEW LEADERSHIP IN CORRECTIONS DIVISION: In September, Sheriff Berry announced the appointments of Deputy Director Brandon Foster to Director of the Charles County Detention Center (CCDC) and Captain Deborah Dofflemyer to Deputy Director of the CCDC.
In their new roles, Director Foster and Deputy Director Dofflemyer took over the oversight and management of all operations of the CCDC, which is a secure facility for incarcerated adults (and juveniles charges as adults), as well as an annex that houses work release and weekend inmates. They are responsible for ensuring CCDC staff maintain custody and security of inmates and create a variety of programs to reduce recidivism and help inmates re-enter society.
Combined, Director Foster and Deputy Director Dofflemyer have more than 50 years' experience in corrections. "They walk a tough beat and have a huge responsibility. I have the utmost confidence in their abilities to manage all aspects of corrections, and I'm proud of their success," said Sheriff Berry.
PRIDE: In January, the CCSO unveiled a new branding initiative: PRIDE.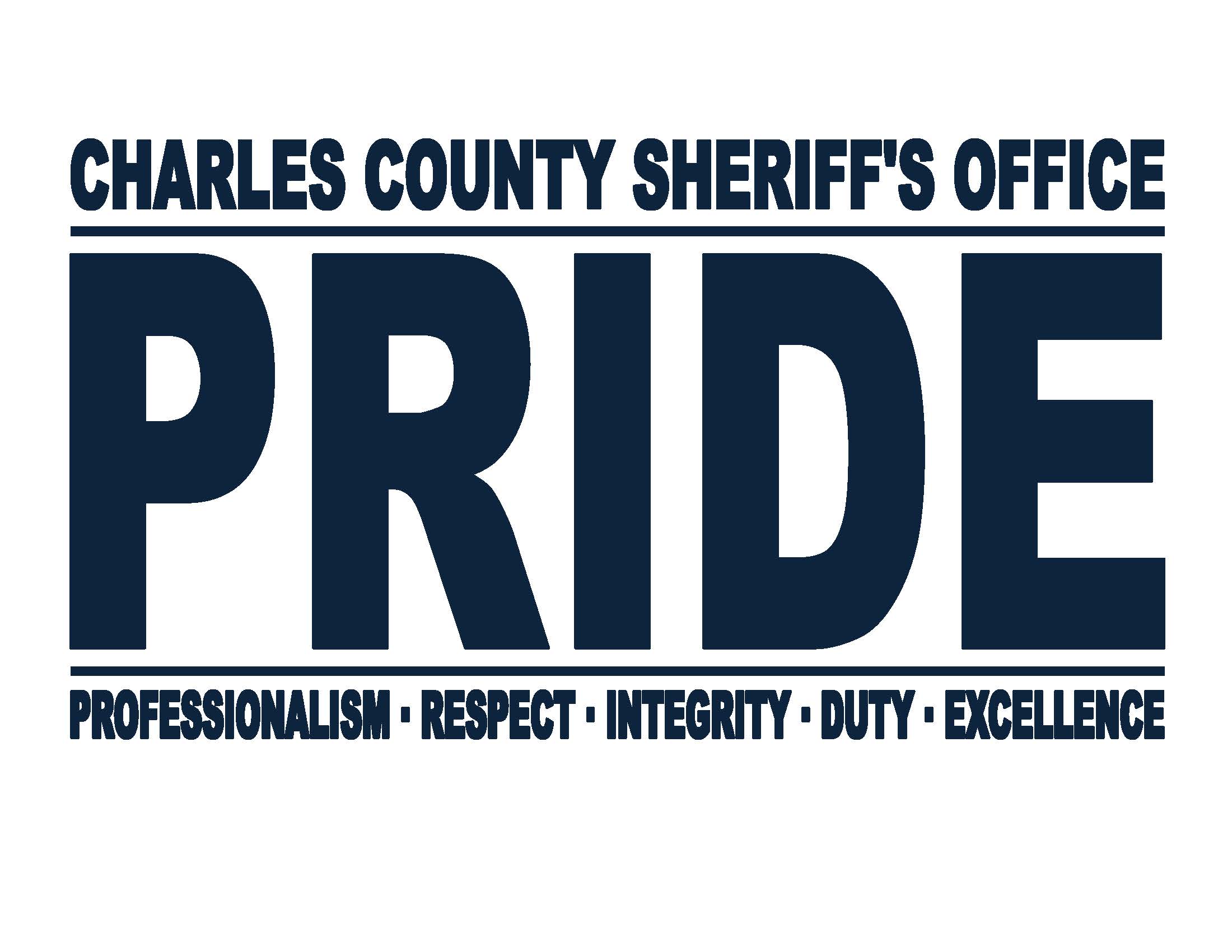 A representation of the agency's core values, PRIDE is an acronym which stands for Professionalism, Respect, Integrity, Duty and Excellence. The PRIDE campaign originated in 2015 after CCSO Command Staff attended an FBI National Academy Associates Training. In brainstorming ideas for recruiting efforts, retired Captain Michael Klotz suggested the acronym PRIDE, stating that it stood for "goals that we strive to achieve and a word that describes our agency and how we perform our mission."
"PRIDE characterizes the CCSO's culture. It is the way we feel about ourselves, our work, and our community," said Sheriff Troy Berry. "It is also how we will attract new recruits to a career in law enforcement. To them, PRIDE represents something bigger that they, too, can be a part of."
Community Outreach
SPECIAL OLYMPICS MARYLAND:  The CCSO coordinated three fundraising events for Special Olympics Maryland in 2016 — the Charles County leg of the Maryland Law Enforcement Torch Run, Cops on Rooftops, and the Zombie Invasion 5K — and raised an astounding $70,000 for the organization and its athletes, setting a new agency record. Since 2006, the CCSO has raised nearly $400,000 for the cause. On June 9, the CCSO hosted the Charles County leg of the Law Enforcement Torch Run, a community event that helps escort an Olympic torch, the Flame of Hope, across Maryland. The event is one of multiple Torch Runs in the state that converge at Towson University to light the cauldron at the Opening Ceremony of the Special Olympics Summer Games. Hundreds of CCSO employees and community citizens — including U.S. Marines assigned to the Chemical-Biological Incident Response Force (C-BIRF) at the Naval Surface Warfare Center in Indian Head, Special Olympics athletes, and athletes' families — participated. Two routes, one for runners and one for walkers, departed and returned to the Texas Roadhouse restaurant in La Plata. Volunteers from Texas Roadhouse and other local businesses including Chick-fil-A, Bobby Rucci's Famous Italian Deli, and McDonald's provided lunch and other refreshments. This year's event was dedicated to Anthony "Stormie" Zanfordino, a 9-year-old Special Olympics athlete who inspired us with his "superhero" pose and heart.
In September, CCSO volunteers stood atop the La Plata and Waldorf Chick-fil-As in rotating shifts to raise money and awareness for Special Olympics during the CCSO's annual Cops on Rooftops fundraiser. The rooftop volunteers lowered buckets to collect donations while volunteers on the ground, including officers, cadets, Criminal Justice students, and Special Olympics athletes, greeted patrons.
In October, the CCSO hosted the Zombie Invasion 5K at Laurel Springs Regional Park. Hundreds of runners, walkers, and even some pets came dressed like zombies for the 3.1 mile race. Makeup artists were on hand to "zombie-fy" the participants. Prizes were handed out for the top finishers in several age groups as well as for the best costumes.
CRIME WATCH: The CCSO hosted its annual Crime Watch Kick-off event in March at the American Legion in La Plata. The purpose of the event was to raise awareness about crime prevention and discuss strategies to keep our communities safe. Mr. Vincent DeVivo, Community Outreach Specialist for the United States Attorney's Office, gave a presentation about the major online threats facing our children and the practical measures we can take in response.
NATIONAL NIGHT OUT: In August, residents in more than 150 neighborhoods throughout Charles County joined the CCSO for the 33rd Annual National Night Out to celebrate the community's alliance against crime, drugs and violence. Sheriff
Berry, Sworn and Correctional Officers, representatives from Charles County Crime Solvers, Explorers Post #1658 and even McGruff the Crime Dog and McGruff's nephew Scruff were on hand to meet residents.
Neighborhoods across Charles County hosted block parties with food, games, music, and other activities. Many residents lit their porch lights to demonstrate their support for NNO. "National Night Out is a fantastic community event which aids in our mission to continue to build on the great relationship we have with the citizens of Charles County. Residents cannot only come out and meet their neighbors, but also meet the officers that serve in their neighborhoods," said Sheriff Berry. "This is a great opportunity for citizens and law enforcement to build camaraderie and together take a stand against crime."
Youth Outreach
SCHOOL RESOURCE OFFICERS HOST YOUTH CAMPS: In 2016, the CCSO school resource officers hosted several camps for the elementary and middle school-aged children in Charles County.
In June, they kicked off the summer with their annual Kops for Kids Football Camp for over 90 Charles County students in grades 3-5. The free three-day camp took place at St. Charles High School and was made possible by the Cal Ripken Senior Foundation as well as the generosity of the Charles County Board of Education, Waldorf Jaycees, Crown Trophy, UTZ, Little Caesars and Chick-fil-A. Kathy Almassy and Eileen Shlagel, registered nurses from Charles Regional Medical Center, also volunteered their time to attend to any injuries and to ensure that the children were healthy and hydrated. Children who attended the camp received instruction from officers and special guests including former NFL greats Rod Milstead and Gary Clark as well as Dr. Kim Hill, Superintendent for Charles County Schools. Campers participated in a combine during which coaches could assess each player's ability, and were then divided up into teams for a flag football tournament.
The following week, officers welcomed 70 students from Charles County schools to the CCSO's Badges for Baseball program at the Regency Furniture Baseball Stadium. Sponsored by the Cal Ripken, Sr. Foundation, Southern Maryland Blue Crabs, Diamond Dream Foundation, and Charles County Public Schools, officers assigned to the School Resource Unit joined players from the Blue Crabs and Major League Baseball legends, Fred Valentine (Baltimore Orioles and Washington Senators) and Alonza Bumbry (Baltimore Orioles) to help coach the students. The camp ran three days and provided positive interaction and fellowship between officers and county youth.
Sheriff Berry, Capt. Kevin Barrows, Lt. Charly Baker, and School Resource Officers with students participating in Badges for Baseball
Along with the fundamentals of football and baseball, the kids learned about sportsmanship, decision making, conflict resolution, communication, teamwork, leadership, nutrition, self-management and the important role education plays when participating in any sport.
Also during the summer, the School Resource Unit held its Summer Youth Initiative program – a four week camp for 80 middle school students at St. Charles High School. Students were selected based on input from schools and other recommendations. During the four weeks, students took courses in health, finances, career readiness, and even became certified in CPR. In addition, they took part in physical activities such as baseball and other games and went on field trips at the end of each week. On their last day of camp, the SRO's took the students to Kings Dominion.
Finally, in late December, school resource officers held a free 2-day basketball camp at St. Charles High School for students between the ages of 10-12. The students received instruction from the officers and the coaching staff of the Beltway Bombers, a local American Professional Basketball League (APBL) team.
"The youth camps organized by our School Resource Officers are invaluable to the community. They allow the officers to continue to build relationships with the students throughout the summer and during winter break, and they also give the kids something positive and productive to participate in," said Sheriff Troy Berry. "Sports offer important life lessons about discipline, trying your best, and trusting your teammates."
SHERIFF CONDUCTS WELLNESS CHECKS AT ELEMENTARY AND MIDDLE SCHOOLS: In an effort to maintain
the positive relationship between police and youth in Charles County, Sheriff Berry visited each elementary and middle school in the county – a total of 29 schools – between January and June. "This was an opportunity for me to support our School Resource Officers as well as the students and staff at the schools," said the Sheriff. "It is critical that we stay involved with our youth from an early age, so that they understand that their community is here for them."
Accolades
ROBERT "BOBBY" KIESEL WINS CHARLES COUNTY DEMOCRATIC CENTRAL COMMITTEE LABOR AWARD: In April, Lt. Robert "Bobby" Kiesel was honored at the Charles County Democratic Central Committee's annual
Truman/Kennedy Dinner Awards as the recipient of the Labor Award.  According to the Committee, "Awardees should be a member or representative of a local trade, FOP, IAFF or school union, work to strengthen the ties between unions and the Democratic Party, work to foster a place within the union where Democratic Party ideals can flourish and vice versa, and work to bring union leadership and members to support Democratic Party causes and events." A 21-year veteran of the agency, Lt. Kiesel has worked with representatives at the state and local levels to get a bill passed for collective bargaining for the members of Charles County FOP Lodge #24. He has also submitted a bill through the House in reference to addressing the issue of synthetic marijuana in Charles County. In addition, he has worked diligently in his positions as the State Trustee on the local Fraternal Order of Police (FOP) Executive Board, the State Trustee Chairman on the MD State FOP Executive Board, and also on the Trial Courts Judicial Commission. "Lt. Kiesel works tirelessly at the state and local levels to bring change in the laws pertaining to narcotics enforcement," said Captain Scott Whitcraft, Commander of the Criminal Investigations Division. "His work with the FOP, as an advocate for police officers, is also commendable. He is a true asset to our agency and our career field."
DETECTIVE RECEIVES U.S. DEPT. OF JUSTICE AWARD: Sergeant Harry Ivers, a staff trainer at the Southern Maryland Criminal Justice Academy, received an award on June 21 at the 34th Law Enforcement Awards ceremony hosted by the U.S. Department of Justice. Sgt. Ivers helped investigate a major narcotics case that led to the arrest of a narcotics dealer and a co-conspirator. "Anytime a drug dealer is arrested, our community becomes a safer place," Sheriff Berry said. "We are thankful for Sgt. Ivers and the rest of these hard-working officers and agents for their tireless dedication to ridding our communities of these dangerous drugs." Ivers was nominated for this award by Assistant U.S. Attorney Karla-Dee Clark and Assistant U.S. Attorney Zia M. Faruqui. Six other law enforcement agents and officers also worked with Ivers to investigate the case.
OFFICERS NAMED POLICEMEN OF THE YEAR AT ANNUAL LAW ENFORCEMENT AWARDS CEREMONY: In August, Corporals Joseph Piazza and Robert Gottschall, along with Officer Samuel Hooper, were named Policemen of the Year during the Waldorf Moose Family Center #1709 Annual Law Enforcement Awards Ceremony. Mr. Larry Dean, Prelate and Valor Awards Chairman, served as emcee and presented the officers with the awards. "We appreciate our officers and the work they do to protect us day in and day out," said Dean. The awards stemmed from an event that occurred on February 23, 2015, when Officers Piazza, Gottschall and Hooper responded to an address in Waldorf for the report of an assault in which a man severely choked his girlfriend and then threatened to kill her with a gun. The woman escaped from the house and called police. When officers arrived, they were confronted by the suspect who was standing on the front porch armed with a long gun. The officers ordered the suspect to drop the gun, but he refused. Instead, the suspect lifted the gun and pointed the weapon in the direction of Officer Hooper who discharged his service rifle, striking the suspect and causing him to fall to the ground. Corporals Piazza and Gottschall immediately approached the suspect and secured the long gun. Then, they began to render medical aid to the suspect by applying direct pressure to the gunshot wound. Cpl. Gottschall assessed the suspect's injuries and recognized the need for a tourniquet. He ran to his cruiser, obtained a first aid kit, and applied the tourniquet to the suspect's leg to stop the bleeding. The suspect was transported to a hospital, where it was later determined the medical attention given to the suspect by the officers was critical in saving the suspect's life.
PFC VERNON WARKER RECEIVES POLICE OFFICER OF THE YEAR AWARD FROM SONS OF THE AMERICAN LEGION SQUADRON #82:  On Wednesday, August 17, the Sons of the American Legion Squadron 82 presented its Police Officer of the Year award to Police Officer First Class Vernon Warker.
Pfc. Warker was selected as the recipient of this honor particularly for the courage he displayed during an incident in May of 2015. Pfc. Warker was the first on the scene of a house fire in Waldorf and learned that there was still one person trapped inside the house. Without hesitation or any protective gear, Pfc. Warker pushed open the locked front door, went inside the smoke-filled home, and dragged the man out to safety, saving his life.
Adjutant Gary Shupe and First Vice Commander G. Gale Willett presented the award plaque. "As a first responder, you are expected to be many things depending on the situation that faces you," said Adjutant Shupe. "What Pfc. Warker did that day went beyond expectations and was something police officers do not typically train for. His instincts kicked in, and the man would most likely have died that day if not for Pfc. Warker's heroic actions."
CCSO OFFICERS NAMED DEPUTIES OF THE YEAR BY MARYLAND SHERIFFS ASSOCIATION: Three officers were named Deputies of the Year and recognized by the Maryland Sheriff's Association (MSA) for outstanding police work in a variety of fields. Corporal Kristian Syvertsen, recognized for his work in traffic safety, Detective Patricia Adams, recognized for her work in crime prevention, and Master Corporal Roger Calloway, recognized for his work in community service, were honored during an awards ceremony held in September at a banquet in Ocean City, MD. "The Charles County Sheriff's Office is committed to excellence in policing and serving our communities the best we can. It is an honor and a pleasure to work with individuals who are dedicated to superior service," said Sheriff Berry.
HONORING OUR OWN: Sheriff Berry honored 11 retirees and 61 award recipients at a banquet held on October 28 at the Waldorf Jaycees Community Center. Honorees were recognized for completion of service to the Agency, excellent field work, or acts of bravery. Mr. William Saunders, a retired police captain, served as the Master of Ceremonies. The Charles County Sheriff's Office Honor Guard presented Colors; Mrs. Jennifer Voorhaar sang the National Anthem; Dr. Aaron Jones, a CCSO Chaplain, delivered the invocation; and Dr. Bruce Jones, a CCSO Chaplain, delivered the benediction.
Perhaps most notably, a Silver Medal of Valor was awarded to POI Lamar Hamilton and Bronze Medals of Valor were awarded to Cpl. William Saunders, Pfc. Justin Bottorf, POII Matthew Nauman, Trooper Matthew Milich, and Mr. Woodrow Price for an incident which took place in September.
Shortly before midnight on September 2, 2016, officers responded to a single vehicle accident on St. Charles Parkway south of Northgate Place. As officers began arriving on the scene, they discovered a vehicle had run off the roadway and struck a tree. The engine compartment was fully engulfed in flames. An adult female and two infant children were trapped inside the burning car. The driver, an adult male who suffered numerous leg fractures in the accident, was seated outside of the vehicle. An adult female passenger, who was apparently ejected from the vehicle and suffering from numerous injuries to include a serious facial injury, was located later.
As Corporal Saunders and Officer Nauman used their Agency-issued fire extinguishers to fight the blaze, Officer Bottorf arrived and dragged the driver to safety. In order to save the two trapped children, Officer Hamilton entered the burning vehicle, removed the children from the vehicle, and handed one child to Officer Nauman and the other to MSP Trooper Milich. Both children were taken to a safe area away from danger. Officers then attempted to free the adult female who was still trapped in the front passenger seat. It was clear she was in imminent danger and that she had already been burned by the flames. The fire forced the officers back. With the vehicle still burning and flames now touching the woman, Cpl. Saunders used a fire extinguisher to keep the flames away from her as much as possible until firefighters arrived. Meanwhile, Yolanda Davis, a citizen who lives nearby, saw the fire, grabbed a fire extinguisher out of her house, and brought it to officers. Ms. Davis then saw the infants on the ground, and she immediately went to aid one of the babies by comforting and talking to her.
Upon the arrival of Waldorf Volunteer Fire Department, Station 3, firefighters took over battling the fire. It was then that Mr. Price – a volunteer firefighter/EMT – provided air to the pinned passenger as she struggled to breathe. This act placed Price in severe danger from smoke inhalation, but he remained with the female. It was clear she already suffered severe burns to her legs. Once the fire was extinguished, firefighters were able to get her out of the vehicle to safety.
A massive undertaking was underway to coordinate three emergency medical helicopters to transport the five patients who were suffering from critical injuries, including fractured bones, a fractured skull, and second and third-degree burns. All five occupants of the vehicle were treated on the scene and stabilized by EMTs and two CCSO Officers. Cpl. Saunders, who is a certified EMT, administered oxygen to both infants. M/Cpl. Jason Hopkins, who is also a trained paramedic, located the ejected passenger and provided advanced lifesaving care to her. As a direct result of the medical aid he provided, the woman survived. When the helicopters arrived, M/Cpl. Hopkins remained with his victim as she was flown from the scene to Washington Hospital Center.
All five occupants of the vehicle survived due to the heroic efforts of these men and women. For the lifesaving care they provided, M/Cpl. Hopkins and Ms. Davis received the Lifesaving Award. For their bravery, exposing themselves to a high level of danger and risking serious injury or death in saving the lives of those trapped in the vehicle, Cpl. Saunders, Officer Bottorf, Officer Nauman, Trooper Milich, and Mr. Price received the Bronze Medal of Valor. And for his courageous act above and beyond the call of duty, knowingly putting himself in harm's way and risking his own life to save another, Officer Hamilton was awarded the Silver Medal of Valor.
Bronze Medals of Valor were also awarded to Pfc. Larry Blake and Mr. Jonathan Wynn. On February 4, Pfc. Blake was driving southbound on St. Charles Parkway when he observed a male subject standing at the driver's side door of a stopped vehicle at the light at Post Office Road.  Because it appeared the subject was attempted to gain entry into the vehicle, Pfc. Blake made a U-turn and approached the intersection to investigate.  As Pfc. Blake was exiting his vehicle, the subject began to flee.  These events attracted the attention of an off-duty United States Secret Service Agent, Jonathan M. Wynn, who stopped to provide assistance.  Pfc. Blake and Agent Wynn pursued the suspect on foot.  As they closed on the suspect, Pfc. Blake observed him reaching into his waistband as if to pull a weapon.  Pfc. Blake then ordered him to show his hands.  Fearing for his safety after the suspect failed to comply, PFC Blake fired his service weapon, striking the suspect. The suspect fell to the ground, but he resisted attempts by Pfc. Blake and Agent Wynn to secure him.  Once the suspect was handcuffed, a stolen .380 semi-automatic handgun was located on his person.  A vial of PCP that had been tossed by the suspect was also located nearby.  It was later learned that the 70 year old male driver of the vehicle that was stopped at Post Office Road believed the suspect was attempting to carjack him.
Pfc. Blake and Agent Wynn placed themselves in significant risk of injury or worse to protect the citizens of Charles County.  Their actions demonstrate great courage and professionalism in the face of danger.
"It is an honor to work with the men and women of the CCSO, and our award winners and retirees represent some of the best," said Sheriff Berry. "Their dedication to service has made a lasting impact on our agency, and we congratulate them on their success."
About Our Divisions
Office of Professional Responsibility (OPR): The OFFICE OF PROFESSIONAL RESPONSIBILITY (OPR), an independent component of the CCSO, maintains the CCSO's integrity by ensuring the professional conduct of Agency personnel. OPR's two functions include Internal Affairs and Standards and Audits and operate under the command of Captain Mike Almassy with assistance from Assistant Commander Lieutenant Dave Kelly.
Internal Affairs (IA) handled 45 cases in 2016. Of those, 14 were exonerated; 6 were unfounded; 10 were sustained; 1 was presented to an administrative hearing board with a not guilty finding; 1 was handled within the Division; and 12 investigations were still open at the end of the year. There was 1 case of a lost badge which was not investigated. The IA cases involved 32 police officers, 10 correctional officers, and 3 civilians.
Patrol Division: When life or property is in peril, citizens rely on the protection of the CCSO's first responders — the officers of the PATROL DIVISION — whose chief responsibilities are maintaining law and order and restoring peace when public safety is threatened. The Patrol Division prevents and investigates crime, responds to calls for service, and enforces traffic laws. It is the CCSO's most visible component. Captain Daniel Gimler serves as the Commander of the Southern District and Captain R.J. Williams serves as the Commander of the Northern District.
Five shifts of 22 patrol officers (ranked corporal and below) and four sergeants each provide police services day and night throughout Charles County. Each officer is assigned to either the Northern District or the Southern District of the county. Additionally, 11 lieutenants serve as shift commanders in the Patrol Division, ensuring a commander is always on duty in both the Northern District and Southern District. Shift commanders coordinate the Patrol Division's response to major incidents and to make critical operational decisions.
Patrol officers responded to 256,221 calls for service in 2016, which included a variety of emergency and non-emergency situations.
Patrol officers made 9,898 arrests in 2016. These include not only arrests made on-scene after responding to calls but also those made after interrupting crimes in progress during proactive patrols; during traffic stops where more serious crimes like drug or weapon possession are uncovered; and as a result of extensive investigations.
The K9 Unit is comprised of nine officers, a sergeant, a trainer, and 12 dogs. With their keen sense of smell, K9s perform narcotics detection, patrol work, and/or explosives detection and respond to both verbal commands and hand signals. In 2016, the unit conducted 107 building searches, 202 drug searches, and 117 tracks and made 106 apprehensions. Each K9 team is certified by the United States Police Canine Association (USPCA).
Special Operations Division: The SPECIAL OPERATIONS DIVISION performs tactical assignments and provides community and school-based services that engage citizens and businesses in public safety activities. Captain Kevin Barrows was named the division's commander in 2014. The division includes two sections: Special Operations and Community Services
The Special Operations Section is supervised by Lieutenant Rey Aportadera and includes the Traffic Operations Unit, Marine Unit, and the Emergency Services, Hostage Negotiation, and Special Events Response Teams.
The Traffic Operations Unit investigates traffic fatalities, school bus crashes, school bus complaints, and abandoned vehicles; conducts radar operations and commercial vehicle inspections; manages crossing guard assignments; provides funeral escorts; and manages all traffic-related grants awarded to the CCSO. In 2016, the unit conducted 3 sobriety or aggressive driving checkpoints. There were zero arrests for drunk driving after checking 2,662 drivers.
The Marine Unit is a specially-trained team of officers and civilians who provide law enforcement services on the waterways of Charles County. The vessels are specially designed for law enforcement use and are equipped to handle a variety of possible situations.
The Special Events Response Team (SERT) is comprised of 28 officers who respond to large-scale demonstrations, natural disasters, and other significant events that require additional manpower and resources.
The Hostage Negotiations Team is specially trained to bring situations involving barricaded individuals and hostages to peaceful conclusions. Negotiators volunteer for the team in addition to their regular duty assignments.
The CCSO's Community Services Section, under the command of Lieutenant Charles Baker, administers innovative and effective crime prevention programs, provides instruction and security in county schools, and leads numerous community outreach efforts. As a testament to the success of the Community Services Section's programs and its commitment to working closely with citizens and businesses to prevent crime, the CCSO has received the Maryland Governor's Crime Prevention Award each year since 1988. The Community Services Section oversees the Community Oriented Policing Services (COPS) Unit, School Resource Unit, Teen Court, the Honor Guard, and the Cadet and Criminal Justice programs.
The Community Oriented Policing Services (COPS) Unit is comprised of nine officers and two sergeants who maintain ties with neighborhoods that participate in the program. Each neighborhood works with one COPS officer who helps implement crime prevention programs; addresses problems and concerns; attends community meetings; and conducts foot, bicycle, and ATV patrols. As a result of their diverse training, these officers are often assigned to special details to address specific crime trends in the county.
The School Resource Unit facilitates the strong alliance between police and Charles County school students. As part of an agreement with Charles County Public Schools, an officer is stationed at each elementary, middle, and high school to provide programs such as Safe Schools, Truth and Consequences, and Drug Abuse Resistance Education (DARE). The officers host a basketball camp, Badges for Baseball camp, Kops for Kids Football Camp, Just Say No camp, a Summer Youth Program, and We Care, a program that has reduced teen traffic fatalities by using innovative methods to encourage young motorists to drive safely. This unit also operates a Student Crime Solvers program, which provides an opportunity for reward money when students anonymously submit information about crimes in schools. The program is offered in conjunction with Charles County Crime Solvers.
Teen Court provides first-time youth offenders with an opportunity to accept responsibility for traffic offenses, misdemeanor crimes, and tobacco and alcohol offenses without the stigma of a formal criminal record. Youth offenders are represented by youth defense attorneys, prosecuted by youth prosecutors, and sentenced by youth juries. An adult volunteer serves as a judge. The program teaches students about the criminal justice process, helps them better resolve problems, and reduces recidivism. In 2016, Teen Court heard 117 cases and sentenced youth offenders collectively to 3,191 hours of community service.
The Community Services Section also supervises the Honor Guard, which was originally formed to assist families of fallen officers at funerals. It is now a dignified presence at many CCSO and community functions including police and correctional officer graduations and an annual candlelight vigil hosted by the Center for Abused Persons.
College students who want to pursue a career as a CCSO police officer gain invaluable on-the-job experience in the Cadet Program, which employs college students between 18 and 21 years of age. Cadets perform a variety of duties while learning law enforcement techniques, CCSO policy and procedure, and criminal and traffic law. These duties include traffic direction and enforcement, seatbelt and child safety seat inspections, flagging abandoned vehicles, and truck and school bus safety inspections.
High school students considering a career in law enforcement have an opportunity to learn about the criminal justice system as part of their academic curriculum in the Criminal Justice Program offered through an alliance between the CCSO and Charles County Public Schools.
Criminal Investigations Division: The CRIMINAL INVESTIGATIONS DIVISION (CID) investigates complex crimes and crime trends. Under the command of Captain Scott Whitcraft, the division operates four sections — Major Crimes, Property Crimes, Homeland Security, and Narcotics Enforcement.
The Major Crimes Section, commanded by Lt. Joe Pratta, includes the Major Crimes, Special Victims, Robbery, and Forensic Science Units.
The Major Crimes Unit investigates homicides, deaths, shootings, stabbings, life-threatening assaults, cold cases, missing persons, and the rare occurrences of police-involved shootings. Detectives investigated six homicides in 2016, which were all closed with arrests at the end of 2016. Detectives made 28 arrests for major crimes in 2016.
The Special Victims Unit (SVU) investigates rapes, sexual assaults, physical and sexual child abuse, and the exploitation of the elderly. The circumstances of these investigations can be difficult and very emotional for detectives.
The Robbery Unit investigates citizen and commercial armed robberies. In 2016, the unit conducted 65 investigations and made 45 arrests.
The Forensic Science Unit (FSU) is comprised of a sergeant, evidence technicians, and latent fingerprint examiners who provide critical support to patrol officers and detectives by processing crime scenes and analyzing evidence.
The Property Crimes Section, commanded by Lt. Ronald Farrell, investigates property and financial crimes; analyzes crime trends; and provides services to crime victims.
In 2016, the Property Crimes Unit investigated 83 residential burglaries, 34 commercial burglaries, and 67 stolen vehicles. As a result of their investigations, detectives made 96 arrests in 2016. A total of $61,490.51 in stolen items was recovered for victims from pawn shops in 2016.
The Financial Crimes Unit investigates fraud schemes, identity theft, and embezzlement. In 2016, detectives investigated 381 cases. Of these investigations, 54 resulted in criminal charges, 127 were still active investigations at the end of the year, 14 were closed exceptional, 15 were closed as unfounded, and the remainder were closed after investigative leads were exhausted.
The Crime Analysis Unit collects, analyzes, and disseminates crime data for the CCSO's CompStat program. The CCSO introduced CompStat, an analysis-driven method of proactively addressing crime problems, in 2009. District Commanders use the Crime Analysis data as part of weekly CompStat meetings to address crime problems.
The Victim Services Unit works with local, state and regional agencies including the Center for Abused Persons, the Center for Children, the Criminal Injuries Compensation Board, and Victims Information and Notification Everyday (VINE) to ensure victims understand their rights and have access to counseling and compensation.
The Homeland Security Section, commanded by Lt. Jon Norris, investigates street gangs, outlaw motorcycle gangs, extremist activities, threats against public officials, terrorism, and organized crime. The unit receives and disseminates intelligence information and publishes law enforcement bulletins for the CCSO and allied agencies nationwide. An investigator from the Homeland Security and Intelligence Unit is also part of the Southern Maryland Information Center (SMIC), a regional operation that facilitates information sharing between the CCSO, the Calvert and St. Mary's County Sheriffs' Offices, the Maryland State Police and the Maryland Coordination and Analysis Center. Representatives from each agency analyze reports and identify cross-jurisdictional crime trends.
The Narcotics Enforcement Section (NES), commanded by Lt. Robert "Bobby" Kiesel, works covertly and aggressively to disrupt drug trafficking in Charles County. The effective disruption of drug trafficking is vital to the reduction of crime overall. The section includes the Major Narcotics Unit and the Narcotics Street Enforcement Unit. In 2016, NES investigations led to the seizure of $227,371 worth of marijuana, $99,000 worth of PCP, $34,925 worth of oxycodone, $30,000 worth of THC wax, $29,056 worth of heroin, $16,440 worth of crack cocaine, $11,649 worth of cocaine, $6,376 worth of prescription medications, $4,000 worth of LSD, $1,150 worth of hydrocodone, $720 worth of Ecstasy, $75 worth of K2, 65 vehicles, 33 handguns, 28 shotguns, 25 rifles, and about $65,000 in cash.
Corrections Division: The responsibility of keeping inmates at the Charles County Detention Center (CCDC) secure rests with the CORRECTIONS DIVISION under the command of Director Brandon Foster and Deputy Director Deborah Dofflemyer. The CCDC is a secure facility that opened in 1995 and stretches 135,000 feet with 203 cells. In 2016, Corrections processed 9,714 arrests through intake and booked 3,215 incarcerated individuals into the facility. The CCDC maintained an average daily population of 312 inmates.
The Custody and Security Section, commanded by Captain Gary Summers, maintains the general inmate population. Lt. Ryan Ross, Assistant Commander of the Custody and Security Section, serves as the Corrections Division's training coordinator. He ensures all correctional officers fulfill training obligations mandated by the Maryland Police and Correctional Training Commissions (MPCTC).
Four Lieutenants serve as Shift Commanders to ensure there is always a commander on duty. The four Shift Commanders are Lt. Matthew Dixon, Lt. James Kelly, Lt. Richard Hulvey, and Lt. Matthew Becker.
The Standards Section, commanded by Lt. Amy Stine, conducts audits and inspections to ensure the CCDC operates according to the hundreds of standards set by the Maryland Commission on Correctional Standards (MCCS). In 2001, the CCDC became the first detention facility in Maryland to score 100 percent on an MCCS audit and achieved 100 percent scores after audits in 2004, 2006, 2009, 2012, and 2016.
The Support Services Section, commanded by Captain Morris Gant, is responsible for central processing, inmate programs and services, the commissary, and security maintenance. This section also oversees the inmate library, the law library, inventory, and supplies.
Lt. Ryan Taylor serves as an Office of Professional Responsibility (OPR) investigator to ensure the integrity of Corrections Division personnel.
Central Processing, under the direction of Lt. Gerald Duffield, ensures the completeness, accuracy, and security of inmate records and maintains communication with court systems, police agencies, and other correctional facilities. The unit is comprised of Records, Intake, Finance, Transportation, and Court Holding.
Inmate Programs and Services, commanded by Lt. Brian Gardiner, reduces recidivism by offering programs that help inmates re-enter society as productive citizens. One program, Successful Transitioning and Reentry Skills (STARS), provides inmates with skills and knowledge to help them succeed in life. Inmates who apply for the program write a resume and appear before an interview panel. Other inmate programs include the Diamonds Program, a faith-based life-skills and transitioning program that addresses specific issues for female inmates, a General Equivalency Diploma (GED) program, and an annual Re-Entry Fair.
The Corrections Division operates the Detention Center Annex adjacent to the primary Detention Center under the command of Captain Robert Studds and Assistant Commander Lt. Stacy Kelly. The Annex houses female inmates, work-release and school-release inmates, inmates sentenced to weekend service, and inmates serving fewer than 60 days. The building served as the county jail from 1981 to 1995 and reopened as the Annex of the current detention center in 2007 to better utilize bed space and alleviate overcrowding in the primary detention center.
Information Services Division: The employees of the INFORMATION SERVICES DIVISION, commanded by Captain Michael McGuigan, are the critical link between citizens and the police and between officers and the information they need to do their jobs safely and efficiently. The division also manages the Agency's computers and software.
The Communications Section, commanded by Lt. Stan Gregan, provides police radio communications to officers and clerical coverage of the district stations in La Plata, Bryans Road, and Waldorf. Each district station is staffed by Station Clerks responsible for answering the CCSO's non-emergency telephone lines and for helping citizens who visit the district stations. The La Plata and Waldorf stations are staffed all day and night and the Bryans Road station is staffed between 10 a.m. and 6 p.m. The station clerks' training prepares them to handle a variety of citizen reports and inquiries, from life-threatening emergencies to the occasional non-police matter. Their primary mission is to obtain clear and concise information and relay that information to Police Communications Officers (PCOs), who dispatch the information to officers conducting patrol or other assignments.
The Management Information Systems Section (MIS), managed by Deputy Director Dave Hanna, is vital in ensuring the CCSO functions efficiently in our digital world. The highly knowledgeable staff assigned to the Applications Support, PC Operations, and Systems Operations Support Units maintain hundreds of PCs, printers, networks, complex servers, and software applications. Every function of the CCSO relies on the daily use of computers, and MIS personnel are always on-call after regular business hours to ensure law enforcement services are uninterrupted.
Special Services Division: The SPECIAL SERVICES DIVISION, commanded by Captain Billy Caywood, handles judicial matters, ensures the security of the Charles County Courthouse, and maintains the Agency's fleet, supply stock, and property inventory.
The Judicial Services Section, commanded by Lt. Ben Voorhaar, serves arrest warrants, civil papers, and other legal documents; addresses child support and domestic violence problems; and provides Courthouse security services.
The Property Management Section, commanded by Lt. Randy Stine, manages the CCSO's Quartermaster, Fleet Management, Property Held Unit, and Firearms Tracking Operations.
Executive Services Division: The EXECUTIVE SERVICES DIVISION, commanded by Captain Stephen Salvas, oversees the presentation of information to the Sheriff and manages Planning and Accreditation, Media Relations, and Chaplain Services programs.
Planning and Accreditation, directed by Mr. Danny Johnson, writes and maintains the policy contained in the CCSO's Administrative and Operational Manual and ensures the CCSO maintains its internationally recognized accreditation from the Commission on Accreditation for Law Enforcement Agencies (CALEA).
The Media Relations Office coordinates the distribution of information about police investigations, crime prevention, and CCSO events to the news media and public. The office issues regular press releases; manages the content of the CCSO's website; produces the Annual Report, an internal newsletter, advertisements, brochures, posters, and fliers; and manages the CCSO's social media accounts.
Local clergymen offer guidance and inspiration to CCSO personnel and the public through Chaplain Services. Chaplains minister to CCSO personnel in times of personal need or strife and provide comfort to those who are injured or afflicted. They accompany officers who must notify families of the death of a loved one and would assist in notifying the family of an officer who was seriously injured or slain. Chaplains also provide invocations and benedictions at CCSO ceremonies.
Administrative Services Division: The CCSO is committed to maintaining a highly qualified workforce, to utilizing financial resources efficiently, and to thorough and accurate record keeping. The ADMINISTRATIVE SERVICES DIVISION, commanded by Director Brian Eley, is responsible for helping the CCSO meet its strict personnel, budgetary, and records management standards.
The Financial Services Section, managed by Deputy Director Gloria Bowers, ensures the integrity and accuracy of the CCSO's financial operations. A well-trained team of finance professionals promotes sound financial management practices, accounts for CCSO-owned property, effectively allocates resources, oversees the budget preparation process, and assists in meeting the CCSO's operational needs.
The Red Light and Speed Camera Financial Section is responsible for the financial review of the CCSO's red light camera and school zone speed enforcement camera programs.
The Human Resources Section, managed by Deputy Director Brian Daniels, handles administrative personnel tasks for potential and current employees. Once the Human Resources Section determines an applicant meets position requirements, the Pre-Employment Investigations Unit performs an extensive background investigation of the applicant. The unit's mission is to ensure only the applicants with the highest levels of integrity are awarded positions with the CCSO. Background investigations involve polygraphs, psychological examinations, physical examinations, and drug screenings.
The Records Management Section, managed by Judy Torney, preserves and maintains thousands of reports filed through the CCSO each year.
Training Division: The TRAINING DIVISION ensures the CCSO meets state-mandated requirements and provides a variety of other training needs. Commanded by Captain Kevin Leahy, the division is comprised of the Southern Maryland Criminal Justice Academy, the Recruitment Unit, and the Firearms Instruction Detail.
The Southern Maryland Criminal Justice Academy (SMCJA) provides entry-level training to all police and correctional officers in Southern Maryland. The SMCJA is funded and governed by the sheriffs' offices in Charles, Calvert, and St. Mary's Counties, which provide the Academy's full-time staff of instructors and support personnel.
Once officers have completed entry-level training, they must complete a required number of hours of "in-service" training. The Training Unit handles all annual in-service training classes and ensures all required documentation is submitted to the Maryland Police Training Commission (MPTC) to maintain each officer's State certification.
The Firearms Training Unit is comprised of highly-skilled instructors who must maintain expert proficiency in firearms. The unit provides regular firearms training to all new and veteran officers and to Correctional Officers who carry firearms in the performance of their duties. In addition to the required qualifications courses officers must complete twice annually for the handgun, shotgun, and rifle, officers are also trained in tactical scenarios, shooting on the move, shooting behind various types of cover, general marksmanship skills, and various other courses of fire related directly to the performance of duties as a police officer.
The Recruitment Unit seeks the best potential police and correctional officer candidates for employment with the CCSO. The unit attends job fairs and other events to engage those who are interested and to guide those who have decided to pursue careers in law enforcement.
ALL GAVE SOME, SOME GAVE ALL
Deputy Sheriff Lawrence H. McParlin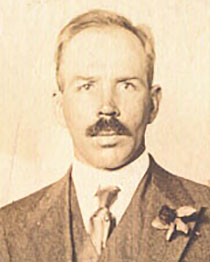 Deputy Sheriff Lawrence McParlin is the first Charles County Sheriff's officer known to have fallen in the line of duty. On May 21, 1918, a short time after becoming a police officer, Deputy Sheriff McParlin and Metropolitan Police Department Officer John Conrad attempted to serve a court summons in Washington, D.C. As they entered the building, the suspect, who was wanted, shot and killed both officers.
Patrolman First Class Dennis L. Riley, #49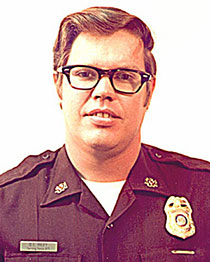 On January 11, 1977, PFC Riley was killed in a crash at the intersection of Route 228 and U.S. Route 301 in Waldorf. As he waited for a traffic light to change, a tractor-trailer fuel tanker skidded to a stop and overturned on his cruiser, killing him instantly. PFC Riley was survived by a wife and four children.
Sergeant Francis "Leo" Yates, #40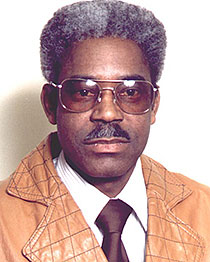 On June 8, 1988, Sgt. Yates suffered a fatal heart attack as he left the Charles County Courthouse. He was survived by a wife and four children.
Sergeant Joseph E. Stine, Jr., #62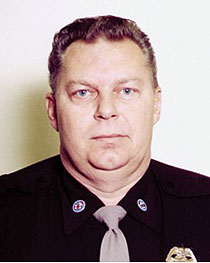 On May 12, 1990, Sgt. Stine arrested a disorderly subject and transported the resisting prisoner to the Charles County Detention Center. Sgt. Stine then collapsed and suffered a fatal heart attack. He was survived by a wife, two children and three step-children.
Sergeant Timothy C. Minor, #109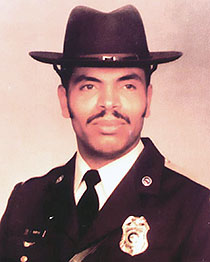 On February 12, 1996, Sgt. Minor was killed when a vehicle pulled in front of his police motorcycle on Route 257 in Newburg as he was responding to a call near Cobb Island. Sgt. Minor was survived by a wife and two children.
Station Clerk Willard C. Keesee, #1123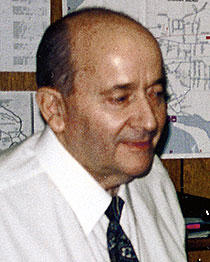 On January 23, 1998, Mr. Keesee was on-duty at the Indian Head District Station when he suffered a fatal heart attack. He was survived by two sons and a daughter.
Corporal Jamel L. Clagett, #447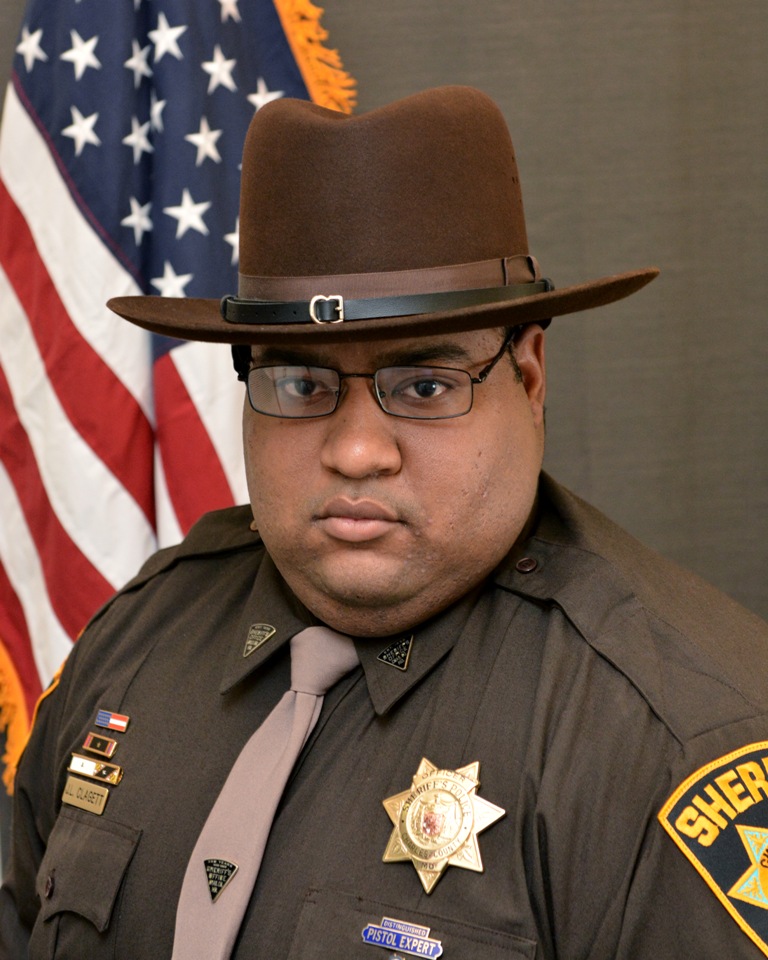 On December 21, 2014, Cpl. Clagett was killed in a single-vehicle crash on Route 218 near Route 641 in King George, Virginia, while returning home from working a midnight shift. He was survived by his mother, two brothers, and a sister.