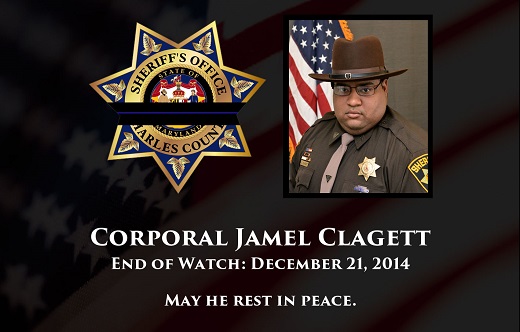 The Charles County Sheriff's Office dedicates the 2014 Annual Report to Cpl. Jamel Clagett, who died in a single-vehicle crash while driving home after a midnight shift.
May he rest in peace.
2014 At a Glance
County Population: 154,747 (Census Estimate)
Sworn Officers: 302
Corrections Officers: 153
Civilian Personnel: 208
Calls for Service: 258,591
Arrests: 11,600 (adults and juveniles)
Motor Vehicle Citations: 55,366
DUI Citations: 530
Automobile Crash Deaths: 3 crashes resulting in 3 deaths*
Alcohol-Related Crash Deaths: 0*
Crime Solvers Statistics: Charles County Crime Solvers is a non-profit organization that offers rewards of up to $1,000 for information that leads to the arrest or indictment of a person involved in criminal activity.  As a result of the tips received through Crime Solvers in 2014, the CCSO made 70 arrests, cleared 115 cases, recovered 49 weapons, and approved a total of $11,700 in reward money to citizens.
Internal Affairs: Internal Affairs handled 55 cases in 2014. Of those, 12 were exonerated, 13 were unfounded, 13 were sustained, 8 were non-sustained, 1 was withdrawn, 1 was ultimately handled within the applicable division, 3 were closed with the employees resigning under investigation, 1 was closed not applicable and 1 remains under investigation. There were also 2 cases of lost badges which were not investigated; 1 was later found. The IA cases involved 49 police officers, 11 correctional officers, and 1 civilian.
*Statistics do not include Maryland State Police traffic fatality investigations.
Crime statistics for Charles County, to include crimes investigated by the Maryland State Police and the La Plata Town Police, are available in the Maryland Uniform Crime Report. Citizens can also search for crimes investigated by the Charles County Sheriff's Office using CrimeReports.com, which provides citizens with near instant access to calls for service data.
The Year in Review
"Protecting our community is our priority and an obligation we fulfill through traditional police work, innovative community programs and a strong alliance with citizens, businesses, community organizations and government officials. Our achievements in 2014 reflect not only our hard work but also the effort our community has invested in public safety." – Sheriff Troy D. Berry
CHARLES COUNTY ELECTS FIRST AFRICAN-AMERICAN SHERIFF: Sheriff-Elect Troy D. Berry was sworn in as sheriff of the Charles County Sheriff's Office (CCSO) on December 2, 2014, marking a change in command and making history as he became the first African-American to serve as sheriff in the agency's 356 years.
Sheriff Troy Berry's previous 20-plus years of law enforcement service was with the Charles County Sheriff's Office. He is a native of Southern Maryland and graduated in 1991 from the College of Southern Maryland with an Associate's Degree in Liberal Arts. He graduated from the Southern Maryland Criminal Justice Academy in 1992.
Sheriff Berry began his law enforcement career as a patrol officer and then worked his way into the Criminal Investigations Division where he conducted investigations of crimes including burglary, robbery, child abuse, rape, sexual assault, felony assault, and murder.
Sheriff Berry was also assigned to the Office of Professional Responsibility (OPR) as an Internal Affairs Investigator and later as an Assistant Commander and Commander (2005-2010). He was charged with ensuring the integrity and professional conduct of all sworn and civilian personnel.
In 2010, Sheriff Berry was assigned as Commander of the District III Station in Waldorf. Before being elected as Sheriff, Sheriff Berry was an Operational Patrol Commander.
During his 22 years of service, Troy served as a hostage negotiator for seven years and was twice nominated as Police Officer of the Year from the Baltimore Sun newspaper: once for helping to save the lives of several children who were trapped in icy waters at Gilbert Run pond and again for his investigation into the murder of Gayle Cooke, a domestic violence coordinator at the Charles County courthouse.
CCSO MOURNS LOSS OF CPL. CLAGETT: On December 21, the CCSO was saddened to announce the death of Corporal Jamel Clagett, 30, who died in a motor vehicle crash on Route 218 in King George, Virginia. Cpl. Clagett was driving home after working a midnight shift when his car left the roadway and struck a tree; he died instantly. Cpl. Clagett, a ten-year decorated veteran of the Charles County Sheriff's Office, was assigned to Patrol Operations at the District IV Waldorf station.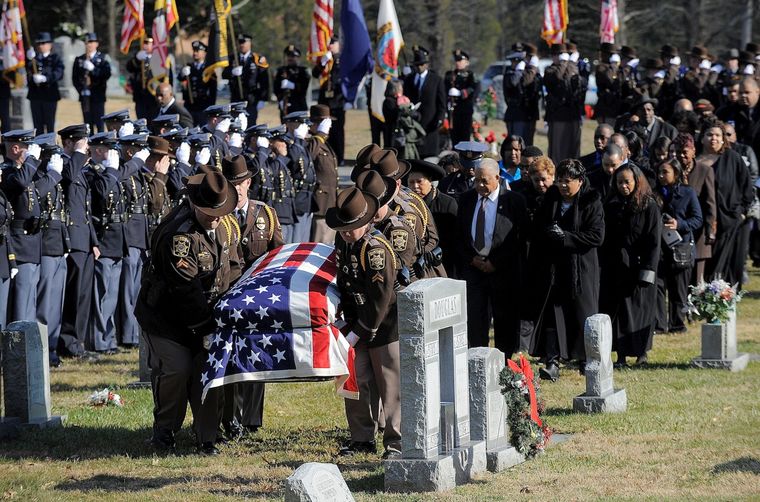 Sheriff Berry described Cpl. Clagett's personality. "Jamel was a great policeman who cared about his community and valued his fellow workers. He was known for his kindness. In fact, his last act – after working an eight hour overnight shift – was buying breakfast at a local restaurant and dropping it off to our midnight communications staff, whom he considered family," said Sheriff Berry. "Jamel always made it a point to look out for others and to make sure everyone was happy before he went home for the day."
During his tenure, Cpl. Clagett received letters of appreciation from citizens and was honored with awards from various agencies. In 2011, Cpl. Clagett was recognized by the Maryland State Highway Administration for his work in DUI prevention. In 2010, Cpl. Clagett received a Meritorious Service Award from the CCSO after subduing a man who was armed with a knife and attempting to injure family members. In 2004, Cpl. Clagett received a Governor's Citation for outstanding efforts in crime prevention and home security.
Cpl. Clagett is survived by his mother, two brothers and a sister.
2014 ANTI-LITTERING CAMPAIGN: On March 29, the CCSO kicked off a campaign to increase enforcement of Maryland's litter control laws. The effort was part of the Waldorf Beautification Project, an initiative by the Charles County Commissioners, but extended throughout Charles County. The CCSO participates in anti-littering programs year-round through awareness campaigns and special enforcement.
US DEPT. OF JUSTICE SPOTLIGHTS CCSO SCHOOL RESOURCE OFFICER PROGRAM: In April 2014, three officials from the U.S. Department of Justice (DOJ), including Ms. Karol Mason, the Assistant Attorney General for the Office of Justice Programs, Ms. Robin Delaney-Shabazz of the Office of Juvenile Justice and Delinquency Prevention and Mr. Calvin Hodnett, a Community Policing expert, spent part of the day touring schools and hearing presentations from officers, students and parents about the phenomenal success of the School Resource Officer program, the core of a strong alliance between the Charles County Sheriff's Office and Charles County Public Schools.
After a shooting in December 2012 that took the lives of 20 first graders and six adult staff members at Sandy Hook Elementary School in Newtown, Conn., President Barack Obama announced a plan to reduce gun violence in our nation's schools. As part of this plan, the President issued a directive to the U.S. Department of Justice to study how School Resource Officer (SRO) Programs can be most effectively utilized in schools. Following the announcement, then Sheriff Rex Coffey and then-Superintendent James Richmond invited the DOJ to Charles County. The DOJ accepted the invitation. By then, Superintendent Richmond had retired and Dr. Kimberly Hill was leading CCPS.
MEDICATION TAKE-BACK INITIATIVE: On Saturday, April 26, the CCSO joined the Drug Enforcement Administration (DEA) in the National Medications Take-Back initiative – a program held twice a year, nationwide, to encourage people with unwanted prescription medications to dispose of them in a safe manner.  Although the CCSO offers residents the opportunity to dispose of unwanted medications at any time, the Agency took part in this national event to highlight the importance of ridding homes of medicines that are no longer needed. Nearly 80 pounds of unwanted, unused and expired medications were collected at this event. Since 2010, the CCSO has disposed of more than 200 pounds of unused prescriptions and other medicines.
2ND ANNUAL REENTRY FAIR: The Charles County Detention Center (CCDC) hosted their 2nd Annual Reentry Fair on Friday, June 13.  More than 60 volunteers representing about 30 organizations from the community set up booths in the gymnasium at the Detention Center to share information with inmates that may assist them upon their release.  Pam Dottellis, Director of the CCDC at that time, said while the primary responsibility at the Detention Center is to keep inmates secure, Corrections staff also offer inmates access to many organizations geared toward helping them improve their lives. "Inmates have access to a general-equivalency diploma program, a religious services program, the Successful Transitioning and Reentry Skills (STARS) program, the Diamonds Program and many other life skills programs," said Dottellis.
The Reentry Fair was started in 2012 by Cpl. Ryan Taylor, a Classification Officer at the CCDC,  who thought it would be a good idea to have vendors meet at one time at the jail to talk with inmates about important services that could enable them to make better choices. "Feedback from the 122 inmates who participated has been extremely positive and we hope to continue providing these services every year," said Cpl. Taylor.
Youth Outreach
FISHING DERBY: In May, nearly 50 students with the Life Skills program at six local schools teamed up with CCSO employees for the 5th annual fishing derby at Gilbert Run Park. Sheriff's officers, Corrections personnel, police cadets, and MSP troopers joined the youngsters for a few hours of fishing and fellowship. Officers taught the kids how to hook, bait, cast, and reel and, in the words of one officer, "The kids taught us a thing or two." The fish students caught were returned to the water.
CCSO HOSTS 2014 YOUTH FOOTBALL CAMP: In June, the CCSO welcomed about 100 children to the Kops for Kids Youth Football Camp hosted by School Resource Officers and other CCSO employees. This was the second year hosting the camp with coaches from North Point High School and Westlake High School. Volunteer nurses were on hand to make sure the kids stayed healthy and hydrated through the hot days. The young athletes who attended the camp learned about teamwork, discipline and sportsmanship.
BADGES FOR BASEBALL: Nearly 100 children from Charles County attended the CCSO Badges for Baseball camp in June. Officers assigned to the School Resource Unit coordinated the event and paired up with baseball coaches from the College of Southern Maryland.
The camp is funded by the Cal Ripken Sr. Foundation. Charles County Public Schools, the Waldorf Jaycees, and Chick-Fil-A also donated. Nurses Eileen Shlagel and Kathy Almassy, who work at Charles Regional Medical Center, volunteered their time to be the on-site nurses for any emergencies.
Camp participants were taught the basic fundamentals of baseball through skills and drills, but perhaps the bigger lessons taught were those that will have a lasting impact on these children such as character building, sportsmanship, respect and teamwork.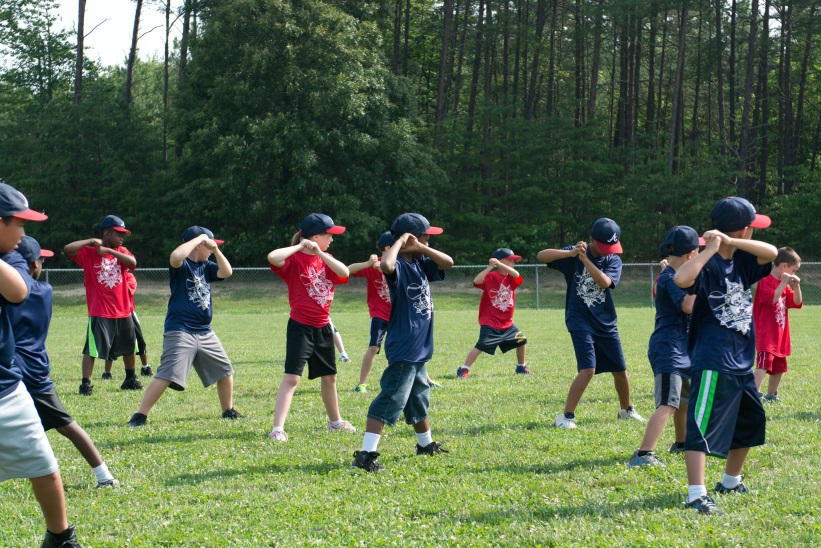 WE CARE: The We Care safe driving initiative for teens continued in 2014. On August 25, the first day of school for Charles County, CCSO officers, School Resource Officers and crossing guards were on hand to help ensure a safe return for all students. In addition, on Friday, August 29, School Resource Officers and county school staff greeted all high school drivers as they entered their school's student parking lots and passed out fliers containing important information regarding teen driving and the rules of the road.
The We Care teen safe driving campaign was introduced in August of 2008, on the first day of school, to teen drivers and their community. The program promotes safe driving through a series of checkpoints in school parking lots and school assemblies and other activities. Students create posters, develop public service announcements and help coordinate special events. Since its inception, the CCSO has seen a drastic decline in fatal car crashes involving teen drivers.
OFFICERS COMPLETE DARE TRAINING: The CCSO was pleased to announce the graduation of three School Resource Officers from the Drug Abuse Resistance Education (DARE) training held Sept. 21 – Oct. 3 at the Public Safety Education and Training Center in Sykesville. PFC John Foster, PFC Tiffany Smith and PFC Kurt Burger were among 20 officers from across the region to complete the two-week, 80-hour certification course to become some of the nation's newest DARE instructors.
DARE is a community based, nationwide program which links law enforcement, schools and parents in a partnership to educate children about the dangers of drugs. The class is taught by police officers who present information to children in a classroom environment, providing skills on how to resist drugs and how to build resiliency to staying away from drugs. In addition, some of the other lessons discussed under the DARE program include bullying, gangs, internet safety, cyber-bullying, and prescription drug abuse. DARE instructors are certified to deliver programs at the K-4, elementary and middle school levels.
With the graduation of these officers, the CCSO has a total of 18 officers qualified to teach the DARE curriculum.
SHOP WITH A COP: A group of Charles County sworn officers, Correctional officers, civilian employees, friends and family worked together to make Christmas a little bit merrier for 59 local children  at the 7th Annual Shop With a Cop event on Saturday, December 6. Shop with a Cop pairs children from low-income families with officers who treat them to a spirited day of shopping and other holiday festivities.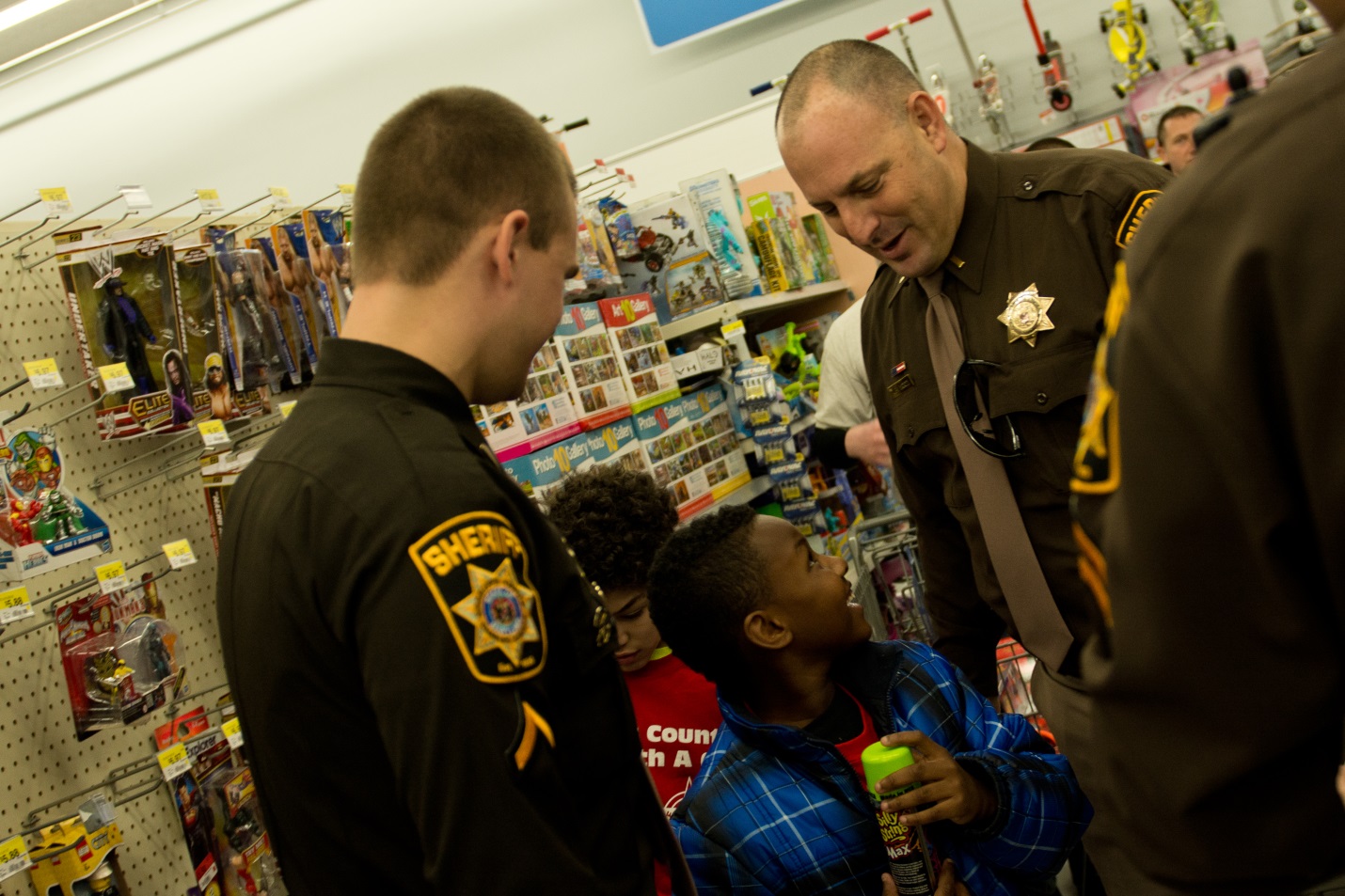 The day begins when the officers transport the children from their homes to the Elks Lodge in Waldorf for breakfast. Then, in a mile-long convoy of police cruisers, the officers drive the children to Wal-Mart in Waldorf, where the officers and children shop for gifts. Each child is allotted $200, half of which they must spend on necessities like clothing, shoes and winter coats. The other half is reserved for toys, movies and other fun items. In true Christmas spirit, some of the children spend their "fun money" on gifts for family members. When the children finish their shopping, the officers return them to the Elks Lodge for lunch and a special visit from Santa while volunteers wrap the presents. Finally, the officers return the children home with their presents and full bellies.
Officers Bobby Long, Colby Shaw and Jeff Feldman introduced the program in Charles County in 2008 and have organized it each year since.
BASKETBALL CLINIC: Members of the School Resource Unit teamed up with the Beltway Bombers – a professional basketball team – and Charles County Public Schools to host a free two-day basketball clinic for children ages 10-12 on December 29-30 at St. Charles High School, while students were on winter break. Donations were received from the Fraternal Order of Police, UTZ and the Waldorf Jaycees. Over 80 students attended the camp, where they learned about teamwork and basketball fundamentals.
Community Outreach
BIKE RIDE FOR UNITED WAY: The 5th Annual Bike Ride for the United Way of Charles County and Spring Dell Center, Inc. took place on Saturday, March 22 at the Indian Head Rail Trail. Participants could choose to complete all or part of the 26-mile trail. Members of the CCSO participated in the event by riding their bikes, providing security on the trail, setting up or by attending as spectators. A total of $3,154.00 was raised for the United Way of Charles County and the Spring Dell Center.
BLUE MASS: Members of the CCSO attended the 20th Annual Blue Mass on May 6 with law enforcement officers across the country who gathered at St. Patrick's Catholic Church in Washington, D.C. The mass honored those who serve in law enforcement and public safety and also remembered the fallen.
The Blue Mass began in 1934, when officers gathered to pray for their fallen comrades and seek blessing for their own safety. The tradition — borrowing its name from the color of many officers' uniforms — has remained popular for public safety employees.
Before the Blue Mass, hundreds of law enforcement officers and public safety officials gathered outside for a processional into St. Patrick's. Representing the Charles County Sheriff's Office were: Lt. Stephen Salvas, Sgt. Chris Schmidt, Sgt. Charles Baker, Officer Ian Bier, PFC Stephen Duley, PFC Steven Bryant and Cpl. Joshua Richards.
SPECIAL OLYMPICS MARYLAND: In 2014, the CCSO raised over $55,000 for Special Olympics Maryland by hosting three separate fundraisers: the Law Enforcement Torch Run, Cops on Rooftops and the Zombie Invasion 5K.
The Charles County leg of the Law Enforcement Torch Run for Special Olympics Maryland took place on June 5 in La Plata. Over $30,000 was raised in T-shirt sales for this event alone. The event was very well attended with approximately 600 participants, making it the most successful in CCSO history.
On November 2, the CCSO, Charles County Fraternal Order of Police Lodge 24 (FOP), and Charles County Correctional Officers Association (CCCOA) hosted the 2nd Annual Zombie Invasion 5K at Laurel Springs Regional Park in La Plata. At this family-friendly event, participants had the opportunity to dress as zombies and walk or run a 3.1-mile trail. Over 40o people participated in this event and more than $14,000 was raised.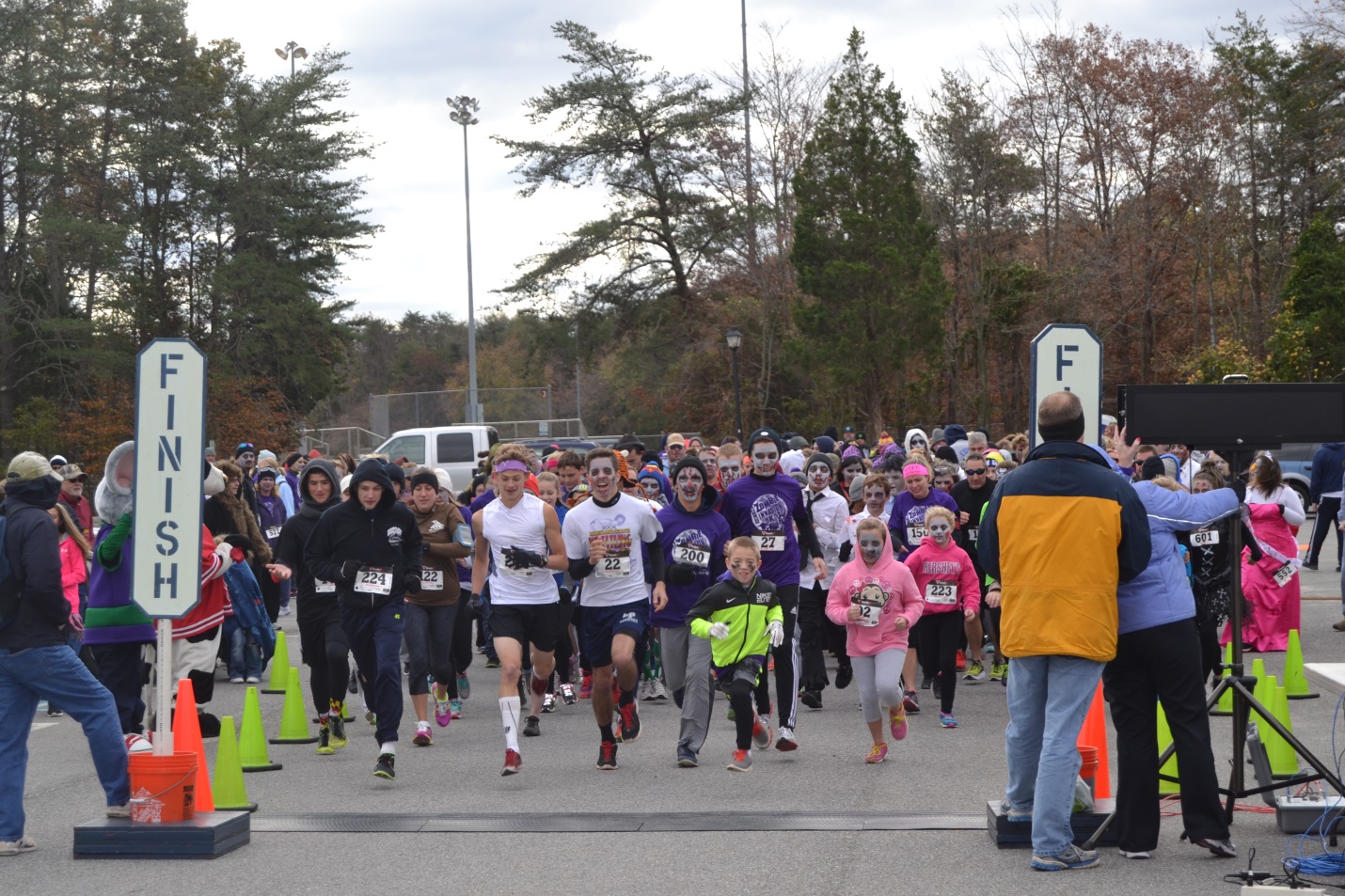 Later in November, the CCSO and Chick-fil-A Restaurants in Waldorf and La Plata hosted Cops on Rooftops. During the fundraiser, police and correctional officers from the CCSO stood on Chick-fil-A rooftops to raise awareness of Special Olympics Maryland and lowered a bucket to the ground for customers who wanted to donate money to support the organization. Torch Run T-shirts were also available for purchase.
NATIONAL NIGHT OUT: On August 5, neighborhoods throughout Charles County were invited to join forces with thousands of communities nationwide for National Night Out. The women and men of the CCSO, McGruff the Crime Dog and McGruff's nephew Scruff joined residents to celebrate the communities' alliance against crime, drugs and violence.
For 19 years in a row, the National Association of Town Watch has recognized Charles County's participation by awarding the agency its category II award for community participation. In 2014 Charles County had over 150 neighborhoods participate in National Night Out. Many local and national businesses contributed to help make the night more special, and donations were received from Maredith Management LLC., Wal-Mart, American Legion Post 82, and Toyota Scion of Waldorf. SMECO contributes annually to fund the children's coloring contest.
CHILDREN'S AID SOCIETY: The CCSO Corrections Division donated more than $3,000 in toys, winter hats, and other gifts to the Charles County Children's Aid Society's Christmas Connection program in December.
Sheriff Troy Berry and members of the Corrections Division, including Acting Director Susan Rice, commander of the Corrections Division; Deputy Director Brandon Foster; Cpl. Jonathan Palmer, president of the Charles County Correctional Officers Association; Cpl. Ryan Taylor; and CFC Jessica Minor presented the donation to Ms. Pamela Vahle, chair of the Children's Aid Society Board of Directors, and Ms. Carol Jackson, the vice chair. Christmas Connection helps less-fortunate families put gifts under the tree and food on the table for Christmas. Ms. Vahle and Ms. Jackson said the donation from the Corrections Division would help enable the Children's Aid Society to provide Christmas for 2,000 children who otherwise would not have any gifts to open Christmas morning. The Corrections Division collects toys and gifts for Christmas Connection each year.
LIFESTYLES, INC. SAFE NIGHTS PROGRAM: In December, the CCSO Community Services Section collected about a dozen boxes of blankets, toiletries, stuffed animals, and other items for LifeStyles, Inc.'s Safe Nights program. Community Organizer Connie Gray, who coordinated the collection, and Cpl. Joshua Richards of the Community Policing Unit presented the donations to Ms. Sandy O. Washington, Executive Director of LifeStyles, Inc. on Dec. 15 at the LifeStyles, Inc. offices in La Plata.
Awards and Accolades
HONORING OUR OWN: The CCSO honored 14 retirees and 47 award recipients at its Annual Awards and Retirement banquet in November at the Waldorf Jaycees Community Center. Mr. William Saunders, a retired police captain and current Firearms Instructor, served as the master of ceremonies. The CCSO Color Guard presented the colors and Dr. Steven Davis, a CCSO Chaplain, delivered the invocation and benediction. 
Honored for their career service were: Master Sergeant Jordan R. Sweeney, 31 years; Gordon A Brightwell, 18 years; Ellen J. Lewis, 21 years; Bruce W. Lewis, 14 years; Becky Harden, 17 years; CFC Martin Letren, 6 years; Corporal Jeffery C. Miles, 20 years; Corporal William D. Poole, II, 16 years; James H. Ammons, IV, 13 years; Shannon D. Sampson, 25 years; Sergeant Shane A. Knowlan, 20 years; Master Corporal David E. Fromme, 27 years; Sergeant Sharon L. Walsh, 20 years; and Deborah A. Myers, 4 years. A Silver Medal of Valor was presented to Corporal Michael Clark for his brave actions that saved the life of a suicidal citizen.
Meritorious Awards, Sheriff's Awards, and Certificates of Commendation were also presented at the banquet. The Waldorf Jaycees donated the use of its community center and provided the meal and dinner service.
CRIME PREVENTION: The Charles County Sheriff's Office was recognized for outstanding service in crime prevention at the 34th Annual Governor's Crime Prevention Awards ceremony held in February. The ceremony recognized law enforcement agencies, police officers, corrections officers, and citizens who made significant contributions in crime prevention in 2013. Cpl. William "Bill" Welch, a CCSO School Resource Officer, and Waldorf resident William Wamsley were also recognized during the ceremony for their work in crime prevention.
OUTSTANDING FUNDRAISING: The CCSO was honored with an award for raising the most money in T-shirt sales for the Law Enforcement Torch Run benefitting Special Olympics Maryland. This marked the seventh consecutive year the CCSO won the top sales award in the state.
KNIGHTS OF COLUMBUS HONORS CCSO EMPLOYEE AS CITIZEN OF THE YEAR: Sarah Vaughan, coordinator of the CCSO's Teen Court program, was named Citizen of the Year by the Knights of Columbus at a ceremony held on March 23. Vaughan had been the coordinator of Teen Court for seven years when she received the award. At that point, Ms. Vaughan had managed approximately 900 Teen Court cases. In addition, she coordinates guest lectures, field trips, and community outreach missions. Sarah truly cares about the teens she works with and is instrumental in helping turn many of them around and pointing them back to doing the right things.
ANTI-DEFAMATION LEAGUE HONORS CCSO DETECTIVE: The Anti-Defamation League (ADL) honored CCSO Detective Richard Boggs during the 5th Annual SHIELD awards banquet held on Sept. 17 at the National Press Club. The SHIELD awards honor law enforcement officers for major successes in the fight against terrorism and for protecting civil rights. Detective Boggs and members of the Montgomery County Police Department, Montgomery County Sheriff's Office and the Montgomery County State's Attorney's Office were awarded for their work in the investigation and prosecution of local members of the Moorish Nation, part of the sovereign citizen movement, for felonies which included first-degree burglary, conspiracy, and theft over $100,000 in connection to their occupation of a home in Montgomery County, MD.  During their investigation, detectives received threats to themselves and their families because of their involvement in the case.
DRIVING AWARDS: Members of the CCSO participated in the 4th Annual Health and Wellness Fair sponsored by the Charles County Government at Laurel Springs Park in October. Part of the event included a vehicle rodeo which promotes safe driving and complete control of a vehicle. Pfc. Paul Sady, Pfc. David Walker and Detective Toby Gregory took first, second and third place, respectively, in the police class vehicle skills test.
COMMUNITY FRIENDSHIP AWARD: Officer James Plunkett of the CCSO Domestic Violence Unit was awarded the Community Friendship Award by the Southern Maryland Center for Family Advocacy. The organization presented Officer Plunkett with the award at its annual awards dinner to honor those working to bring an end to domestic violence. Officer Plunkett also received an official citation signed by Maryland State Senator Roy Dyson.
About our Divisions
With an effective blend of proud traditions and innovative ideas, the Charles County Sheriff's Office operates as the primary law enforcement agency in Charles County and provides all services associated with police departments and sheriff's offices and also operates the Charles County Detention Center. The CCSO employs more than 600 sworn, corrections, and civilian personnel, making it one of Charles County's largest employers.
Sheriff Berry's many responsibilities are assigned by the Maryland State Constitution, the common law and statutory laws of the State of Maryland. The Sheriff executes his responsibilities through the Office of the Sheriff, which oversees, guides, and directs all components of the CCSO and its nine divisions.
The Sheriff receives assistance from the Chief Assistant Sheriff and two Assistant Sheriffs. In December 2014 Sheriff Berry named his new Command Staff. Mr. Phil Hinkle serves as Chief of Staff and Majors David Saunders and Christopher Becker serve as the Assistant Sheriffs of Administration and Operations, respectively.
Sheriff Berry's new Command Staff also includes:
Office of Professional Responsibility: Capt. Michael Almassy
Patrol Division: Capt. Daniel Gimler
Special Operations Division: Capt. Kevin Barrows
Criminal Investigations Division: Capt. James Whitcraft
Information Services Division: Capt. Richard J. Williams
Special Services Division: Capt. Michael Klotz
Executive Services Division: Capt. Stephen Salvas
Training Division: Capt. Michael McGuigan
Administrative Services Division: Director Brian Eley
Corrections Division: Director Susan Rice
Office of the General Counsel: Mr. Christopher Welsh
The Media Relations Office publishes the Charles County Sheriff's Office's Annual Report. More information about the CCSO including our history, a tribute to our fallen officers, crime prevention programs, and news and events is available on our website. Those with questions or comments about this report or other matters are encouraged to contact us.