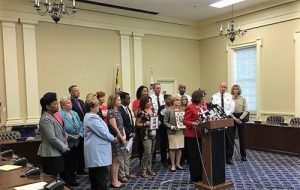 Charles County Sheriff Troy D. Berry is pleased to recognize the efforts of several law enforcement personnel who assisted in the training of many Maryland police departments and sheriff's offices regarding the implementation of HB 1302 – a new law that deals with extreme risk protective orders – which went into effect October 1.
As with any new law, policies had to be created; however, this particular law also created questions as to how it would be implemented considering the many different situations officers would likely encounter. "There were many factors to consider," said Phil Hinkle, Chief of Staff and an attorney for the Charles County Sheriff's Office. Hinkle examined the law and subsequently created a policy for the CCSO, which soon became a state-wide model for many law enforcement jurisdictions. Through the Maryland Sheriffs' Association and the Maryland Chiefs of Police Association, Hinkle, along with Major Ross Passman (Anne Arundel County Police), Chief John Fitzgerald (Chevy Chase Village Police), Sheriff Darren Popkin (Montgomery County Sheriff's Office), and Chief David Morris (Riverdale Park Police Department) helped coordinate training. They hosted four state-wide training sessions to help law enforcement executives understand the new law and how to best implement it.
The Extreme Risk Protective Order (ERPO) permits additional persons to petition the courts to issue an order to remove firearms and ammunition from violent individuals and / or those who have mental health issues and are deemed dangerous to themselves or others. Unlike the current protective orders, law enforcement and mental health professionals may now petition the court themselves for the removal of firearms / ammunition.
"I am extremely pleased our agency was able to put together a model policy, especially since there are so many variables that must be considered when an officer is on the scene of a case involving extreme risk protective orders. I believe this legislation may help save lives because it allows officers and health professionals the ability to immediately petition the courts to remove firearms and ammunition from individuals who may resort to violence by using firearms. It is another tool for law enforcement to help protect the community they serve," said Sheriff Berry.
There are twelve other states that have, in one form or another, Extreme Risk Protective Orders. For more information about the ERPO, click on this link.
Charles County Crime Solvers offers rewards of up to $1,000 for information that leads to the arrest or indictment of a person responsible for a crime in Charles County. All individuals who provide tips through Crime Solvers will remain anonymous. Anyone with information about an unsolved crime or the location of a fugitive may contact Charles County Crime Solvers by calling 1-866-411-TIPS. Tips can also be submitted online at www.charlescountycrimesolvers.com or by using the P3Intel mobile app, which can be found in the Android Store and Apple store by searching P3tips. For more information about the P3 program, click on this link: www.p3intel.com.
The Charles County Sheriff's Office is a full-service law enforcement agency comprised of more than 600 police, corrections and civilian personnel responsible for protecting more than 150,000 residents. The CCSO was accredited by the Commission on the Accreditation of Law Enforcement Agencies (CALEA) in 2001 has been designated as a CALEA Gold Standard of Excellence agency since 2011. Established in 1658, the CCSO is one of the oldest law enforcement agencies in the United States. For more information, visit www.ccso.us.