Charles County Sheriff Troy D. Berry and the men and women of the Charles County Sheriff's Office are pleased to welcome Sterlin Douglas, Brianne Gray, Anthony Stephens, and Richard Swann to the CCSO.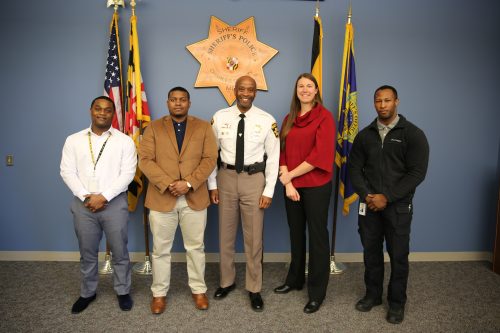 This morning, Charles County Clerk of Circuit Court Sharon L. "Sherri" Hancock presented the Oath of Office to Officers Douglas, Gray, and Stephens, who are lateral transfers from other law enforcement agencies. "Today, these three individuals took an Oath of Office to serve and protect Charles County communities to the best of their abilities. We are happy they chose to work for us," said Sheriff Berry. Swann is set to start as a recruit officer at the Southern Maryland Criminal Justice Academy in July and, upon graduation, become a Charles County Sheriff's officer.
Prior to today, all of the individuals had been finishing the application process. "Each individual has unique experience, which will benefit our police family and the people we serve," Sheriff Berry said.
Sterlin Douglas served three years with the Metropolitan Washington Airport Authority. He joined the CCSO because he wanted more opportunity to work directly with the public. He will join patrol after finishing comparative compliance classes.
Brianne Gray was a 12-year-veteran with the Calvert County Sheriff's Office, where she served in patrol, COPs, narcotics, and as an instructor at the Southern Maryland Criminal Justice Academy. She will immediately begin field training with an officer and will be in patrol in several weeks.
Anthony Stephens was working for the Metropolitan Police Department, where he worked for three years in patrol. He decided to join the CCSO because he is a Charles County resident and wanted the opportunity to serve where he lived and to be a role model for people in his own community. He will be assigned to patrol after he completes a comparative compliance class.
Richard Swann served four years in the Marines and was stationed at Camp Pendleton in Florida. He decided on a career in law enforcement because he wanted an opportunity to help people. Swann is a 2010 graduate of Lackey High School, where he played football and ran track. He chose Charles County because "it's home!"
Sheriff Berry encouraged each officer to honor the agency's PRIDE paradigm (Professionalism, Respect, Integrity, Duty, and Excellence). "We are a team here at the CCSO, and all of us take pride in the work we do. We welcome these new hires and look forward to working with them as they serve and protect our county."
CONTACT:
Diane Richardson
Media Relations Office
301-609-6557
The Charles County Sheriff's Office is a full-service law enforcement agency comprised of more than 600 police, corrections and civilian personnel responsible for protecting more than 150,000 residents. The CCSO was accredited by the Commission on the Accreditation of Law Enforcement Agencies (CALEA) in 2001 has been designated as a CALEA Gold Standard of Excellence agency since 2011. Established in 1658, the CCSO is one of the oldest law enforcement agencies in the United States. For more information, visit www.ccso.us.      
Charles County Crime Solvers offers rewards of up to $1,000 for information that leads to the arrest or indictment of a person responsible for a crime in Charles County. Anyone with information about an unsolved crime or the location of a fugitive may contact Charles County Crime Solvers by calling 1-866-411-TIPS. All individuals who provide tips through Crime Solvers will remain anonymous. Learn more at the CCSO's website.