Charles County Sheriff Troy D. Berry is pleased to announce the agency will be utilizing Unmanned Aircraft Systems (UAS) to assist in high-risk situations and police-related investigations. The program, which has been in the formative stage for nearly a year, is ready to launch with five officers who are trained and certified UAS pilots under the direction of the program supervisor, Lt. David Kelly, Commander of the CCSO Community Services Section.
"Public safety led us to the use of UAS. With them, we will have the capability of viewing critical incidents from advantage points never before possible. The UAS will provide real-ti me situational awareness to our staff," said Sheriff Berry. "We plan to use the UAS primarily for search and rescue missions, missing persons, accident and crime scene documentation, natural disasters, and high-risk incidents."
The aircraft, which is clearly marked with CCCSO logos, is also capable of being fitted with a FLIR thermal imaging camera to assist during search and rescue efforts, as well as for augmenting the services of the K-9 Unit when searching for dangerous or armed suspects.
"All deployments of UAS must be specifically authorized by a command level officer," said Lt. Kelly. "The aircraft will not be used for routine patrol, ordinance violations, or unwarranted surveillance."
The CCSO currently has two officers that are both private pilots as well as FAA-certified UAS operators. Three additional officers were trained, passing their required FAA exams and earning a FAA Remote Pilot Certification.
The CCSO has been vetted by the Federal Aviation Administration and has been granted a Certificate of Authorization to operate the UAS under most conditions, including night operations.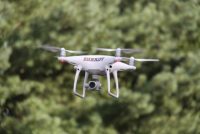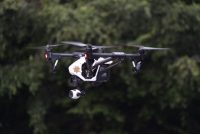 The training required by the FAA was funded in large part by a grant offered by Local Government Insurance Trust (LGIT).  "We are grateful we received the grant from LGIT to fund the training for the program. This technology can greatly enhance our police services while significantly improving safety for citizens and officers alike," said Sheriff Berry.
Note: Members of the CCSO will provide demonstrations of the UAS' abilities at this year's County Fair from Sept. 14 – Sept. 17. Stop by the Agency's fair trailer for more information. Members of the media who would like a demonstration of the UAS may contact the Media Relations Office for details.
Charles County Crime Solvers offers rewards of up to $1,000 for information that leads to the arrest or indictment of a person responsible for a crime in Charles County. Anyone with information about an unsolved crime or the location of a fugitive may contact Charles County Crime Solvers by calling 1-866-411-TIPS, texting CHARLES + the tip to CRIMES (274637) or submitting tips online at tipsubmit.com. All individuals who provide tips through Crime Solvers will remain anonymous. Learn more at the CCSO's website.
The Charles County Sheriff's Office is a full-service law enforcement agency comprised of more than 600 police, corrections and civilian personnel responsible for protecting more than 150,000 residents. The CCSO was accredited by the Commission on the Accreditation of Law Enforcement Agencies (CALEA) in 2001 has been designated as a CALEA Gold Standard of Excellence agency since 2011. Established in 1658, the CCSO is one of the oldest law enforcement agencies in the United States. For more information, visit www.ccso.us.