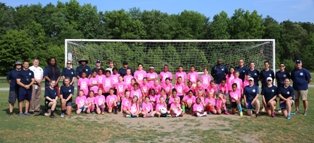 What a way to kick off summer! Last week, the CCSO School Resource Unit teamed up with Charles County students from grades 2-5 for the first annual Ladies Leadership Soccer Camp.  Camp was held from June 15 to June 16 at Laurel Springs Regional Park in La Plata. This free, two-day camp allowed the ladies to improve their sportsmanship and team work, along with giving them the opportunity to show off their skills!
The camp provided 45 girls the opportunity to spend the day with CCSO school resource officers training and interacting with their peers. There were many drills the students had to complete which included kicking, passing, and dribbling the soccer ball. The first drill in camp was passing; this allowed the girls a chance to familiarize themselves with one another.
Sheriff Troy Berry stopped by the camp and mentored the students on leadership. He encouraged them to be good leaders and to work together, and said those skills will help them throughout life. The players were also kind enough to teach Sheriff Berry some of their soccer moves. "These girls were definitely more skilled at soccer than I am. Whenever I made a mistake, they would assist me which demonstrated their good leadership skills," said Sheriff Berry.
Cpl. Mike DePaulo, a school resource officer at La Plata High School, started this camp to reach out to young ladies with a passion for soccer. "As a soccer coach here in La Plata, I thought why not a ladies soccer camp? I have a daughter that plays soccer and I thought it would be a great opportunity for girls to get together and have fun. During this camp we had students from various elementary schools who learned soccer skills. And at the end of camp they were taught a class on leadership. I believe they learned a lot from this camp and I hope they enjoyed it," said DePaulo.
This week, the CCSO will be hosting the annual Kops for Kids Football Camp which will be held at North Point High School from June 21 to June 23. Next week, school resource officers will be holding the Badges for Baseball Camp at Laurel Springs Regional Park from June 28 to June 30.
For more information on these camps please visit our webpage:
https://www.ccso.us/news/2017/05/ccso-school-resource-unit-announces-2017-youth-summer-sports-camps/
Event Sponsors included Chick-fil-A and Jimmy John's.
Press Release prepared by Jada Saxon, student intern, Media Relations Office