Charles County Sheriff Troy D. Berry is proud to announce M/Cpl. Patrick McCue was named Policeman of the Year during the Waldorf Moose Family Center #1709 Annual Law Enforcement and Firefighter/EMS Awards Ceremony held on June 16. Mr. Larry Dean, Prelate and Valor Awards Chairman, served as emcee and presented M/Cpl. McCue with the award. "We appreciate our first responders and the work they do to protect us day in and day out," said Dean.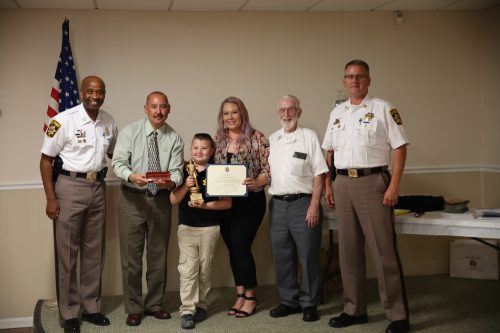 On April 9, 2016, M/Cpl. McCue was on a special saturation detail in the Wakefield neighborhood, when he was flagged down by a citizen who stated a man was walking toward the Wakefield Recreation Center with a long gun.  M/Cpl. McCue responded to the center, where he observed the man walking with an AR-15 rifle. Upon seeing M/Cpl. McCue coming toward him, the suspect ducked behind a vehicle in the parking lot.  M/Cpl. McCue immediately engaged the suspect, ordering him to the ground. The suspect, who had hidden the rifle under another vehicle, gave himself up and was placed under arrest.  M/Cpl. McCue searched the area and located the gun, which was loaded with 27 rounds and had been reported stolen through Fayetteville, NC.
Further investigation revealed the suspect was attending an event at the recreation center when he was punched by another man. The suspect left the event to retrieve the assault rifle.  People inside the center saw the suspect approaching with the rifle and, fearing for their lives, quickly locked the doors to keep the suspect from entering.  It was at this time the citizen flagged down M/Cpl. McCue to report the armed suspect in the area.
Also during the awards ceremony, Emmett O'Hare, La Plata VFD, was named Firefighter of the Year. Nominated by Chief Jason Moore, O'Hare was honored for his work in teaching fire safety to Charles County school students, homeowners and business owners.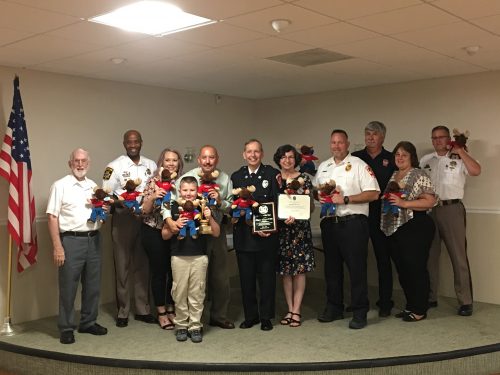 "It's always nice when local civic organizations take time to recognize the outstanding work of emergency workers. We thank the Waldorf Moose Family Center for honoring our police officers and firefighters with such prestigious awards," said Sheriff Berry.
M/Cpl. McCue also received a Meritorious Service Award for his actions in this case during the Agency's 2016 Awards and Retirement Banquet last October.