Charles County Sheriff Troy D. Berry is pleased to announce the appointments of Deputy Director Brandon Foster to Director of the Charles County Detention Center (CCDC) and Captain Deborah Dofflemyer to Deputy Director of the CCDC.
Director Foster and Deputy Director Dofflemyer will oversee and manage all operations of the CCDC, which is a secure facility for incarcerated adults (and juveniles charges as adults), as well as an annex that houses work release and weekend inmates. They are responsible for ensuring CCDC staff maintain custody and security of inmates and create a variety of programs to reduce recidivism and help inmates re-enter society.
Director Foster has been with the CCDC for 19 years, serving in a multitude of assignments. Starting in 1997, Foster began as a line staff correctional officer. Shortly after, he became a staff instructor at the Southern Maryland Criminal Justice Academy. He was promoted to Sergeant in 2004 and supervised recruits in training, and he later served as a sector supervisor in the Custody and Security Section. In 2006, he was promoted to Lieutenant, overseeing a team of officers assigned to the Custody and Security Section. In 2014, Foster was named Deputy Director of the CCDC and later was named Acting Director until his appointment as Director earlier this month. "I believe leadership is principled in fairness, justice, and common respect," said Foster. "I look forward to being actively involved in all aspects of managing the detention center and maintaining a good work environment in an extremely tough job."
Director Foster has extensive training in Emergency Management, Jail Evacuation Planning and Implementation, and Leadership. Prior to joining the CCDC, Foster served in the United States Marine Corps as a Staff Sergeant; he was active duty from 1990 to 1995 and in the Reserves from 2003 until 2007.
Foster is also active in numerous professional organizations including the Metropolitan Washington Council of Governments Corrections Chief's Committee (where he serves as Vice Chairman), the Maryland Correctional Administrator's Association, and the American Correctional Association. In his spare time, Director Foster teaches Sunday school for teens at Hanover Baptist Church in King George, Virginia. He also participates in many community events affiliated with the CCSO.
Deputy Director Dofflemyer joined the CCDC in 1986. Her career history started as a floor officer, and she later served in the areas of transport, Pre-Trial/VICS, and intake. As a Lieutenant, she served as a shift commander in Custody and Security, the central processing commander, and the standards coordinator. She was then promoted to Commander of the Support Services Section until her recent appointment to the Deputy Director position.
"Being a correctional officer is really an awesome job. It's not typically a job that people grow up saying they want to be, and I think most of us just kind of fall into it. I know that's what happened to me. However, thirty years later I'm still here and love it. It's a rewarding and difficult job at the same time. Sometimes you can touch people's lives and make a difference and other times, we're not so lucky. I think what I love about the job most is the amazing group of people I work with. They truly become part of your family," said Dofflemyer. In 2000, she was named Correctional Officer of the Year for outstanding performance.
In her spare time, Dofflemyer volunteers with the Golden Retriever Rescue of Southern Maryland, which assists in finding homes for homeless/unwanted Golden Retrievers.  She also partnered with her sister and makes and sells crafts including floral door wreaths, painted pallets, and small holiday decorations.
Combined, Director Foster and Deputy Director Dofflemyer have more than 50 years experience in corrections. "They walk a tough beat and have a huge responsibility. I have the utmost confidence in their abilities to manage all aspects of corrections, and I'm proud of their success," said Sheriff Berry.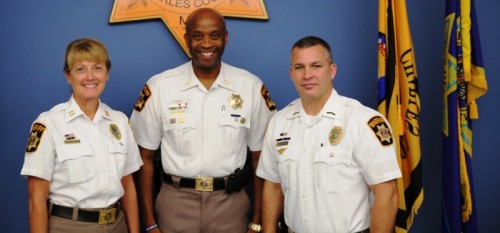 The Charles County Sheriff's Office is a full-service law enforcement agency comprised of more than 600 police, corrections and civilian personnel responsible for protecting more than 150,000 residents. The CCSO was accredited by the Commission on the Accreditation of Law Enforcement Agencies (CALEA) in 2001 and has been designated as a CALEA Gold Standard of Excellence agency since 2011. Established in 1658, the CCSO is one of the oldest law enforcement agencies in the United States. For more information, visit www.ccso.us.      
Charles County Crime Solvers offers rewards of up to $1,000 for information that leads to the arrest or indictment of a person responsible for a crime in Charles County. Anyone with information about an unsolved crime or the location of a fugitive may contact Charles County Crime Solvers by calling 1-866-411-TIPS, texting CHARLES + the tip to CRIMES (274637) or submitting tips online at tipsubmit.com. All individuals who provide tips through Crime Solvers will remain anonymous. Learn more at the CCSO's website.