Charles County Sheriff Troy D. Berry is pleased to announce three officers were named Deputies of the Year and recognized by the Maryland Sheriff's Association (MSA) for outstanding police work in a variety of fields. Corporal Kristian Syvertsen, Detective Patricia Adams and Master Corporal Roger Calloway were honored during an awards ceremony held recently at a banquet in Ocean City, MD.
Corporal Kristian Syvertsen, Traffic Safety
Corporal Kristian Syvertsen was honored for his work in traffic safety. Since the start of his law enforcement career, Cpl. Syvertsen was well-known for his dedication to traffic enforcement and impaired driver arrests. In 2001, despite never riding a motorcycle, Cpl. Syvertsen borrowed a friend's motorcycle, took a safety class and obtained his motorcycle license solely to further his career goal of being a Traffic Operations Officer. In 2015, he was selected for transfer to the Special Operations Division, Traffic Operations Unit. During calendar year 2015, Cpl. Syvertsen stopped 874 vehicles, issued 1,223 violations and arrested numerous impaired drivers.
In addition to keeping the roads safer, Cpl. Syvertsen streamlined the Traffic Operations Unit. On his own, he digitized all traffic operations records and tracking systems, allowing the agency to track all traffic complaints, including school bus complaints and other hazardous violations, and keep a record of resolutions. Furthermore, Cpl. Syvertsen used a speed trailer equipped with statistical data recording software to produce documents that were analyzed and showed speed issues in residential areas. This program allowed for focused enforcement efforts in a more effective manner.
Cpl. Syvertsen also went to work identifying technical solutions on the current fleet of CCSO's motors. Pending the purchase of new equipment, Cpl. Syvertsen used his ingenuity and creativity to outfit the agency motors with temporary computer systems.
Cpl. Syvertsen is the Agency's Breath Test Operator Coordinator. "He undertook this task by volunteering, despite the large amount of work associated with the position. He works diligently both on duty and during his own time to ensure the equipment of the unit functions properly. He applies his knowledge of electronics to repair and upgrade previously unusable equipment which has allowed the unit to make a larger impact on traffic problems throughout the county," said Sgt. Jon Burroughs of the Traffic Operations Unit, who nominated Syvertsen.
"Overall, Cpl. Syvertsen has combined his knowledge of computers and his love of traffic enforcement to help keep Charles County roadways safer," Sheriff Berry said.
Detective Patricia Adams, Crime Prevention, Narcotics
Nominated by her commander, Lt. Robert Kiesel, Detective Patricia Adams was honored for her work in crime prevention. She is a member of the Criminal Investigations Division, Narcotics Enforcement Section and is currently assigned as a Task Force Officer with the Drug Enforcement Administration Tactical Diversion Group.
In 2014, Det. Adams initiated a local investigation of several individuals that were using illicit pain management clinics and pharmacies to obtain large quantities of opiate pain killers for distribution. Over the course of several months, Det. Adams was able to ascertain that her investigation was related to a group of individuals that were also being investigated by the Howard County Police Department. Det. Adams teamed up with an investigator from Howard County and the Department of Health and Human Services to further pursue the investigation, which soon crossed counties and states including Charles, St. Mary's, Calvert, Prince George's, and Anne Arundel Counties in Maryland and parts of the District of Columbia and Virginia.
Based on information gathered from the investigation, 19 individuals, nine vehicles, one house and three bank accounts were included in a federal indictment which was obtained in no small part from the testimony and presentation of the case to the grand jury by Det. Adams.
In May of 2015, federal search and seizure warrants were executed in Maryland and the District of Columbia and one federal search warrant was executed in Virginia. Based on the execution of those warrants, a total of $180,473.34 in currency and additional assets at over $250,000.00 were seized for forfeiture. Four illicit pain management clinics also known as pill mills, three in Maryland and one in D.C., were shut down. Also, four pharmacies in Virginia were shut down. Since May 2015, several additional search and seizure warrants have been executed in Maryland and an additional $157,000 has been seized. There are currently additional suspects awaiting indictment.
"Det. Adams spent thousands of hours doing surveillance, investigation, preparing reports, administrative tasks, writing affidavits, grand jury testimony, raid planning, enforcement initiatives and processing property, evidence and assets. She was instrumental in coordinating the efforts of several local jurisdictions, the Department of Health and Human Services and the Washington and Baltimore Division Offices of the DEA, and she was significantly responsible for the arrests of major drug dealers," said Lt. Kiesel.
"Det. Adams has made a significant difference in keeping these drug dealers off the streets and ensuring justice is served," Sheriff Berry said.
Master Corporal Roger Calloway, Community Service
Master Corporal Roger R. Calloway was honored for his work in community service. M/Cpl. Calloway has been a member of the Charles County Sheriff's Office since December 1993, when he was hired as a Correctional Officer.  He was later transferred to the sworn ranks, where he has served for over 22 years. For the past eight years, M/Cpl. Calloway has taught the Criminal Justice Program at North Point High School. M/Cpl. Calloway also heads the Sheriff's Office Explorer Post.  These two positions take many hours – both during the work day and on his own time – to ensure success. M/Cpl. Calloway makes the programs a priority which ultimately has the largest impact in the lives of adolescents.
"Students often write letters regarding their experience with M/Cpl. Calloway. The letters refer to Calloway as an instructor who constantly encourages his students to be better by trying harder. He teaches lessons about expectations and responsibility, and he spends countless hours to prepare his students for life challenges. The letters describe M/Cpl. Calloway as a person who puts an emphasis on academics while teaching the importance of character. Many students say M/Cpl. Calloway has transformed them and helped make them successful," said Lt. Charly Baker, Calloway's supervisor. "With M/Cpl. Calloway's efforts, his students have gone on to careers in law enforcement and the military."
M/Cpl. Calloway's students participate in SKILLS law enforcement events – a state, regional and nationwide competition – testing students in all aspects of law enforcement.  M/Cpl. Calloway works continuously with these students both during school hours and after hours, when he's off-duty, to prepare them for this challenge.  Several months ago, schools were closed due to wintery weather.  M/Cpl. Calloway was in his office and practiced traffic stops in the back parking lot with several students.  These students came in on their own time to work on their skills.  This is just a small example of the dedication and effort M/Cpl. Calloway puts into his job and these students.  Under his direction, M/Cpl. Calloway's students regularly come in first or second place in the regional competitions.
When students aren't busy learning or competing in competitions, M/Cpl. Calloway immerses them in community service opportunities.  Whether it's the Special Olympics Torch Run, the Charles County Fair, National Night Out, or any of the other dozens of community opportunities, these students learn what it means to volunteer. "They give hundreds of hours to help the citizens of Charles County. Many of these events could not go on if it wasn't for the great help his group provides," said Lt. Baker.
"When the Criminal Justice program is complete, students leave with a greater sense of what it means to give of one's self.   They head into the next chapter of their lives with a solid foundation of service and commitment.  This foundation can be directly attributed to the effort and hours that M/Cpl. Calloway invests in each one of them," said Sheriff Berry.
"The Charles County Sheriff's Office is committed to excellence in policing and serving our communities the best we can. It is an honor and a pleasure to work with individuals who are dedicated to superior service," said Sheriff Berry.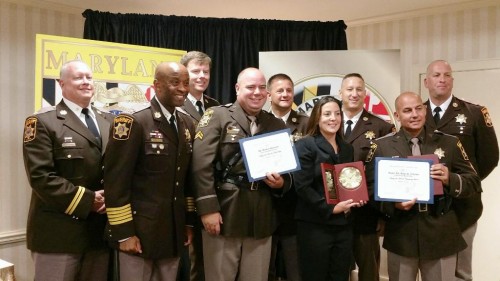 From L to R, front row: Major David Saunders, Sheriff Troy Berry, Cpl. Kristian Syvertsen, Detective Patricia Adams, and Master Corporal Roger Calloway. Back row: Captain Stephen Salvas,   Major Christopher Becker, Captain Michael Almassy, and Lieutenant Joseph Pratta.