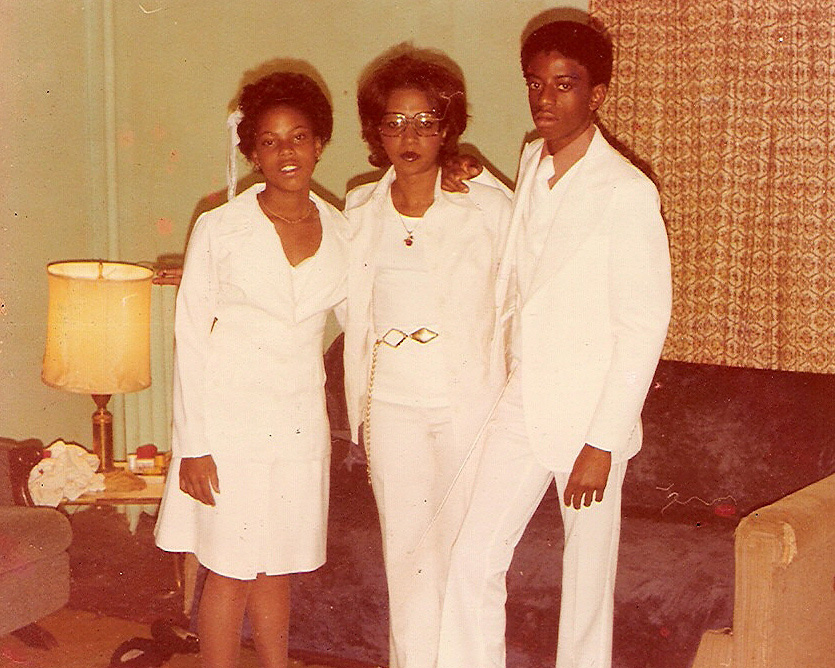 Deborah is pictured above with her mother and an unidentified family.
On Thursday, November 13, 1980, at approximately 8:20 p.m., Deborah Ann Brooks came home to her residence at 1425 Monroe Street in Northeast Washington, D.C., and asked her mother, Constance Canty, about a prescription that Canty had picked up for her at the People's Drug Store on 12th Street in Northeast. Deborah opened the bag and saw that the prescription had not been filled properly. She said she was going to go to the drug store to get the correct prescription but had to hurry because the drugstore would be closing soon. It was the last time anyone in the Brooks family saw her alive.
About 3 p.m. the next day, two hunters were operating a four-wheel-drive vehicle in a wooded area off Sharpersville Road in Charles County looking for a place to hunt deer. When they were about three-quarters of a mile off the road, they observed what appeared to be a body lying face-up under a pile of drywall. The Charles County Sheriff's Office responded to the scene for the investigation. The remains were identified as Deborah's and the Office of the Chief Medical Examiner in Baltimore ruled her death a murder.
Deborah was reported as having worn blue jeans, a brown sweater, a green waist-jacket and brown shoes when she left her home. She was just 17 at the time of her death. Her younger brother described her as "very caring, very loving, [with] a 'gazillion' friends."
Advances in DNA technology have allowed for the new screening and testing of evidence in this case. Detectives are hopeful that a breakthrough in this technology could lead to new information.
Anyone with information that could help us solve this case is asked to contact Charles County Crime Solvers by calling 1-866-411-TIPS, by texting CHARLES + your tip to CRIMES (274637) or by submitting a web tip. Crime Solvers is offering a reward of up to $1,000 for information that leads to an arrest or indictment. All individuals who provide tips through Crime Solvers will remain anonymous.
Deborah is pictured below at age 17.