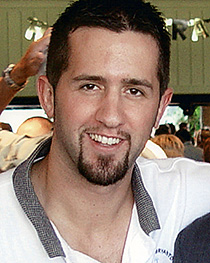 Christopher Abraham Mader, a 23-year-old Waldorf resident, was murdered November 25, 2004 — Thanksgiving Day — about 3 a.m. while driving from his job as a bartender at the former Bennigan's Grill and Tavern in Waldorf. Chris was westbound on Smallwood Drive just outside his neighborhood, Hampshire, when he was shot and killed. His vehicle subsequently left the roadway and crashed into a sign and a powerbox. Despite detectives' aggressive investigative efforts and the case's national exposure — America's Most Wanted aired segments about the investigation in September 2005 and June 2007 — this murder remains unsolved.
A substantial reward of $60,000 is being offered for information that helps detectives solve this crime. The reward includes donations from family and local organizations: Chris's family is offering $30,000; Ironworkers Local 5, a union serving Washington, D.C., and surrounding areas is offering $25,000; Willett Construction of White Plains, is offering $4,000; and Charles County Crime Solvers is offering up to $1,000.
Detectives have pursued several leads and while none has produced a suspect, the detectives continue to seek information about a 911 call connected to the crime. Prince George's County Police received the call shortly after the murder occurred but after a brief conversation, the call was disconnected. The call-taker was unable to obtain the caller's information and the number is listed to a payphone.
The CCSO released part of the recording:
The CCSO previously released a sketch of a person who detectives believed might have had information about the murder but they were unable to identify the person in the sketch and later determined it did not appear to be related to the investigation.
Anyone with information that could help us solve this case is asked to contact Charles County Crime Solvers by calling 1-866-411-TIPS, by texting CHARLES + your tip to CRIMES (274637) or by submitting a web tip. All individuals who provide tips through Crime Solvers will remain anonymous and are eligible for the $50,000 reward.
UPDATE: ARRESTS MADE
Early in 2010, new information surfaced indicating Matthew Derek Correl, 29, of King George, Va., was responsible for the murder of Chris Mader. With quiet aggression, detectives began gathering information which ultimately revealed Correl had killed Chris during a robbery attempt. In October 2010, a Charles County Grand Jury returned a six-count indictment charging Correl with first-degree murder, attempted robbery and other crimes.
During a press conference announcing the arrest, Chris's mother Samantha Payne said, "In our lifetime we never thought this would end. It just ate at me every day not knowing the 'why.' But now that we've gotten this … Chris is never coming back but we have closure we never would have had without Charles County." She said her family planned to celebrate Thanksgiving the following month for the first time in six years.
Correl was convicted on June 29, 2012, and sentenced that August to life in prison without the possibility of parole.
During the investigation of Correl, detectives also identified a second suspect, Shawn Marshall Myers, 33, who was being held at a jail in Virginia on an unrelated probation violation charge. Myers was charged in June 2011 with conspiracy to commit armed robbery. He pleaded guilty in November 2011 and was sentenced that September to a 15-year suspended prison term. He was also sentenced to serve five years of probation and to live with his mother in Waldorf upon his release from the Virginia prison.