Sheriff Troy D. Berry
Charles County Sheriff's Office
Sheriff Troy Berry was re-elected in 2018 and is currently serving his second term as Sheriff of Charles County. His entire 25-plus years of law enforcement career has been with the Charles County Sheriff's Office. He is a native of Southern Maryland and graduated in 1991 from the College of Southern Maryland with an Associate's Degree in Liberal Arts. He graduated from the Southern Maryland Criminal Justice Academy in 1992. In 2015, Sheriff Berry graduated from the FBI National Academy, which provides international law enforcement leadership training in the areas of staffing, budget, crime reduction strategies and administrative policies, rules and procedures.
Sheriff Berry has received numerous community service awards during the past several years from the Charles County Board of Commissioners, Rep. Steny Hoyer (D-Md., 5th) and the Maryland House of Delegates.  Moreover, he has assumed various leadership positions, such as being appointed by Gov. Larry Hogan (R) to the Maryland Police Training and Standards Commission and to the Council of Gangs & Violent Criminal Networks.  He also serves as the chairman of the Southern Maryland Information Center, and was elected as the Second Vice President of the Maryland Sheriffs' Association. He is also a proud member of the Charles County Chamber of Commerce.
Sheriff Troy D. Berry, has been an officer with the Charles County Sheriff's Office (CCSO) for nearly 26 years. He started his career as a patrol officer and worked his way through several positions, to include detective (Criminal Investigations Division), supervisor (Patrol Division), Investigator, Assistant Commander and Commander (Internal Affairs), District Commander (Waldorf Station) and Commander (Patrol Operations).  In November 2014, he was elected Sheriff, making history as the first African American to ever hold the position of Sheriff in the agency's 356-year history.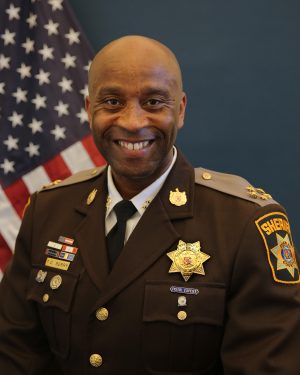 Under Sheriff Berry's leadership, the CCSO has accomplished several critical achievements to include the implementation of the CCSO drone program – which enhances the agency's ability in search, rescue and evidence collection – and the introduction of the Crisis Intervention Team (CIT), which provides officers with training to recognize and diffuse problems that stem from emotional and mental issues. In addition, the agency also obtained a federal grant which allowed the agency to increase its community-oriented policing staff by three, expanding the program throughout the county. The agency was reaccredited through the Commission on Accreditation for Law Enforcement Agencies (CALEA) in 2016.
Sheriff Berry has spent much of his time focusing on building community partnerships in various facets: Recognizing the heroin epidemic, Sheriff Berry established the opioid awareness message boards which track overdoses, lives lost and lives saved with the countywide naloxone program. He enhanced safety at the detention center and authorized the purchase of two body scanners and the Guardian Program, providing full-scale training for staff members. In addition, Sheriff Berry worked with members of the agency and started new initiatives: The Citizens Police Academy, annual prayer breakfast, wellness visits at all elementary and middle schools and a partnership with the Mobile Soup Kitchen of the Washington, D.C., area Chapter of Catholic Charities.
"The men and women of the CCSO and I have worked very hard to protect and serve our county. As a cohesive group, this agency has developed and implemented strategies to reduce criminal activity by 23 percent since 2014. As I stated when I was being sworn in to office in 2014, I did not run for Sheriff to make history, I ran to make a difference."
Sheriff Berry lives in White Plains with his wife, Angela. The Sheriff and Mrs. Berry are pictured above during the Sheriff's Oath of Office ceremony on November 30, 2018.