Sheriff Troy D. Berry
Charles County Sheriff's Office
Sheriff Troy Berry's entire 20-plus years of law enforcement career has been with the Charles County Sheriff's Office. He is a native of Southern Maryland and graduated in 1991 from the College of Southern Maryland with an Associate's Degree in Liberal Arts. He graduated from the Southern Maryland Criminal Justice Academy in 1992.
Sheriff Berry began his law enforcement career as a patrol officer. Patrol is a critical component to any law enforcement agency. Patrol officers are charged with crime prevention,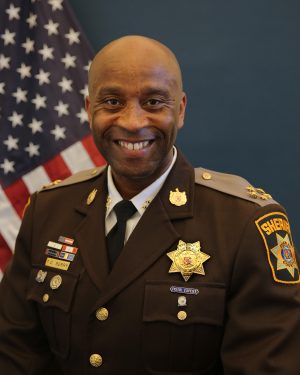 detection, investigations, traffic control, and the preservation of life and property.
Sheriff Berry specialized in the field of criminal investigations beginning in 1996. As a detective, he conducted thorough and complex criminal investigations of crimes including burglary, robbery, child abuse, rape, sexual assault, felony assault, and murder. These cases demanded a thorough knowledge of our state criminal laws. He worked closely with local, state, and federal prosecutors in preparing his testimony in state and federal Courts. As a certified instructor, he created and taught a criminal interview and interrogation training course to sworn officers from multiple jurisdictions at Southern Maryland Criminal Justice Academy.
Sheriff Berry was also assigned to the Office of Professional Responsibility (OPR) as an Internal Affairs Investigator (2001) and as Assistant Commander and Commander (2005-2010). He was charged with ensuring the integrity and professional conduct of all sworn and civilian personnel. He planned and directed the activities of the Internal Affairs Section to investigate and resolve cases in a fair and equitable manner. In addition, he managed the personnel matters of a law enforcement agency with over 600 employees.
In 2010, Sheriff Berry was assigned as Commander of the District III Station (Waldorf) where he had previously been a supervisor with the rank of Sergeant (2000). He managed the day-to-day operations of the largest district station in the county and during his tenure the district experienced a reduction in crime. Executive Command Staff evaluated him to be "an effective leader."
Before being elected to the Office of the Sheriff, Sheriff Berry was an Operational Patrol Commander for the Charles County Sheriff's Office, overseeing approximately 30 officers at any given time.
Sheriff Berry lives in White Plains with his wife, Angela, and daughter, Breonna. The Sheriff and Mrs. Berry are pictured above during the Sheriff's Oath of Office ceremony on December 2, 2014.