Zombie Invasion 5K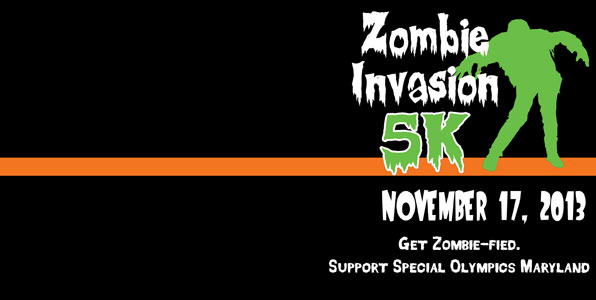 ATTENTION: ZOMBIES INVADED CHARLES COUNTY.
These zombies were not of the fearsome variety. Rather, they were here to help the CCSO raise money for Special Olympics Maryland. On November 17, the CCSO, Fraternal Order of Police and Charles County Correctional Officers Association hosted the First Annual Zombie Invasion 5K.
In the initial phase of the zombie invasion, citizens began showing the first signs of infection — compassion and generosity — and then "transitioned" to zombies with the help of volunteer makeup artists from the Port Tobacco Players, the College of Southern Maryland and the Maurice J. McDonough and La Plata high school drama clubs. In the next phase, the zombies raced or walked a 5K route from the park to Radio Station Road, then to Rosewick Road and back to the park. Police officers who were also "infected" directed traffic and kept the zombies and motorists safe.
In the final phase of the invasion, the zombies were treated to lunch and took part in a medal ceremony for the top zombie racers in various age categories as well as the top overall zombie racers, the top zombie fundraising group and the best dressed zombies.
The Zombie Invasion 5K, a family-friendly event, welcomed about 600 undead members of the community to the park for the occasion. It raised more than $20,000 for SOMD through donations and registration fees, which included lunch, coupons from sponsors and a commemorative T-shirt. Buffalo Wild Wings, Pizza Hotline, Texas Roadhouse and the Meadows Original Frozen Custard sponsored the event.
The Photos (via Facebook)
Zombie 5K Results by Age Group
Previously:
The zombie apocalypse is coming to Charles County, but fear not: These zombies will have hearts of gold.
The Charles County Sheriff's Office, Charles County Fraternal Order of Police Lodge 24 and Charles County Correctional Officers Association are hosting a Zombie Invasion 5K to raise money for Special Olympics Maryland.
Event Details
The Zombie Invasion 5K is a fundraiser for Special Olympics Maryland.
Date: Sunday, November 17, 2013
Location: Laurel Springs Regional Park
Registration/Zombie Transition: 8-10 a.m.
During the zombie transition, volunteer makeup artists will apply zombie makeup. Participants may also choose to "zombie-fie" themselves.
Start Time: 10 a.m.
The invasion is a fun, family-friendly event in which participants "transition" into zombies before completing the 5K. It is not to be confused with a zombie chase, in which participants run from zombies.
Walk or Run
Zombies can run the 5K as a race with chipped timing or walk at a more leisurely, family-friendly, zombie-like pace. Strollers are welcome. Start times will be staggered to allow faster zombies to lead the way.
Racers: Registration packets are available at the FOP Lodge located at 10285 Rosewick Road in La Plata on November 15 from 6-8 p.m. or November 15 from 10 a.m.-1 p.m.
Registration & Fees
Register online at www.zombieinvasion5K.com.kintera.org.
Adult Zombies: $25
Child Zombies 11-17 Years Undead: $20
Child Zombies 10 Years Undead or Younger: Free
Registration includes a commemorative T-shirt and a light lunch. T-shirts will only be guaranteed to zombies who register by November 8. A limited supply of T-shirts will be available on Race Day. Zombies may register as individuals or as teams.
Prizes
Prizes will be awarded to the:
Top Zombie Finisher by Age Category
Overall Top Female Zombie Finisher
Overall Top Male Zombie Finisher
Top Zombie Fundraising Team
All zombies will also be invited to enter a Zombie Beauty Contest.
Infected Area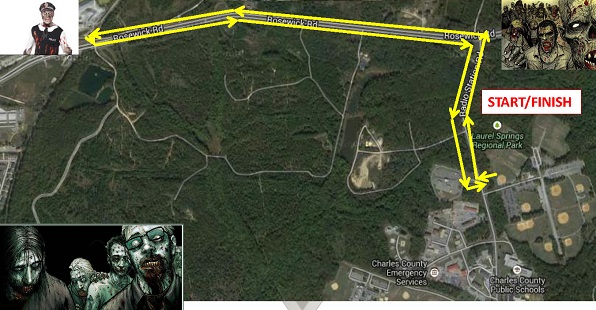 Zombies will leave Laurel Springs Regional Park and proceed to Radio Station Road and then to Rosewick Road. The westbound lane of Rosewick Road will be closed to traffic to protect the runners and walkers. It is not expected to significantly impact traffic. Zombie police officers will provide traffic direction.
Special Fundraising Events
Buffalo Wild Wings Fundraisers
October 26 and November 2 and 9
Pizza Hotline
November 13 from 4-10 p.m.
Call 301-934-4670 or order online.
Texas Roadhouse Fundraiser
November 14
The Meadows Original Frozen Custard Fundraiser
November 16 from 1:30-8 p.m.
More Information and Materials
Event Information/Sponsorship Contact
Sgt. Proctor
240-299-5207
proctora@ccso.us
Media Contact
Kristen Timko
301-609-6538
timkok@ccso.us
Donations
Those who would like to make a monetary donation in lieu of participating in the 5K may mail it to:
Charles County Sheriff's Office
Attention Sgt. Proctor
PO Box 189/La Plata MD 20646
Please indicate the donation is for Special Olympics Maryland.
Informational Materials