Detention Center
The Charles County Sheriff's Office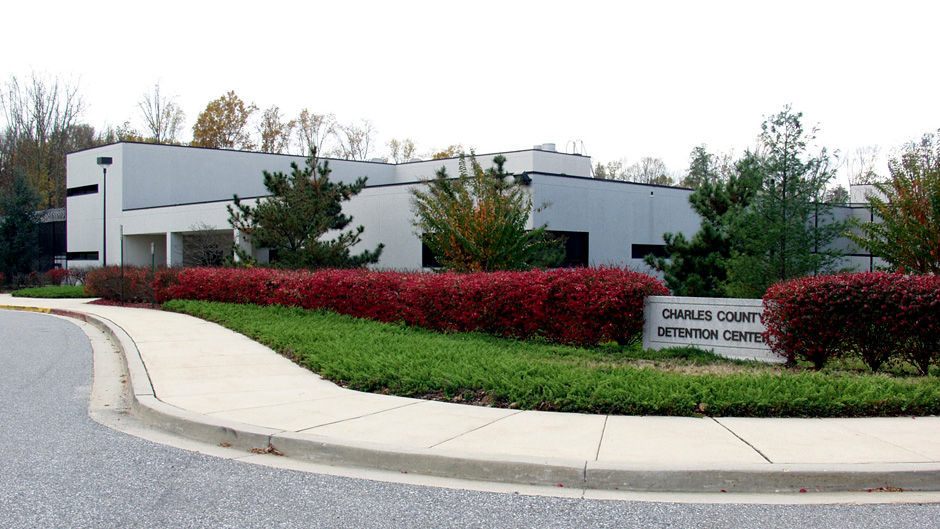 Table of Contents
Overview
The Charles County Sheriff's Office; Corrections Division is comprised of two facilities, the Charles County Detention Center Main Facility, and the Charles County Detention Center Annex. Both are secured facilities for incarcerated adults with a combined holding capacity of 580 inmates. The Corrections Division is responsible for maintaining custody and security of pretrial and sentenced inmates. We offer offenders a variety of programs to reduce recidivism and help inmates re-enter society as more productive citizens.
The Staff of the Corrections Division have several areas of responsibility, to include but not limited to, the Emergency Response Team (ERT), Transport/Court Holding unit, Work Release, Central Processing, Classification, Security Enforcement Team (SET), Standards & Accreditation, and Custody & Security.
The Corrections Division strives to meet strict professional standards. In 2001, the Charles County Detention Center became the first Adult Detention Center in the State of Maryland to earn 100 percent compliance during a Maryland Commission on Correctional Standards Audit. The CCDC has continually received 100 percent compliance ratings in all areas during subsequent audits which occur every three years.
As with any Division within the Sheriff's Office, the Corrections Division is active in the Community and routinely participates in Christmas Toy Drives to benefit the Children's Aid Society, The National Day of Caring, Fishing Buddies Tournament, Special Olympics Torch Run, Christmas in April, and many others.
To contact the Detention Center call 301-932-3100. To learn more about the Corrections Division, view our Annual Reports.
Visiting Policy & Hours
Visiting is held at the Detention Center Annex. The Charles County Detention Center offers on-site and remote visits between citizens and inmates. All visits are conducted by video, not in person. Video visitation services are provided by iWebVisit.com.
Visiting Rules
The following rules apply to every person participating in an on-site or remote visit:
Engaging in illegal or illicit behavior, including disrobing and/or sexual behavior, is strictly prohibited and will result in visit termination. A visitor who engages in such activity will be prohibited from any further visits of any inmate at the Charles County Detention Center and may be subject to criminal charges. The inmate will also be charged with violating the visiting rules and will not be allowed any more visits for the remainder of his or her incarceration.
Visitors must dress appropriately. Clothing must cover from the neck to the kneecaps.
If any person becomes disorderly during the visit, the visit will be terminated.
Any person under the influence of drugs or alcohol will not be permitted to visit an inmate and will be required to leave the visiting center.
Children under 18 are not permitted to visit on site.
Procedures and Hours
On-Site Visitation
The on-site visiting center is located at the CCDC Annex behind the La Plata District Station. Visitors will connect to iWebVisit.com using video visitation stations installed at the visiting center. Space is limited and visits are not guaranteed. Visits cannot be scheduled in advance.
On-Site Visiting Registration
On-site visiting hours – Tuesday and Wednesday ONLY 8:30 – 10 am and 12:30 – 2:00 pm and 3:30 – 4:00 pm is limited to two 20 minute visits per week. Visits are subject to availability of terminals. Beginning on Monday August 13th, 2018 on-site visits must be scheduled before midnight the prior day by calling IWeb at 1-775-434-8748 or visiting their website iWebvisit.com. On or after August 13th same day visits will not be accommodated. The Annex Correctional staff will no longer be scheduling any visiting. The times and dates for on-site visiting will not be changing.
On-Site Visiting Hours
Tuesday & Wednesday: 8:30-10 a.m.
Tuesday & Wednesday: 12:30-2 p.m.
Tuesday & Wednesday: 3:30-4 p.m.
Visits are limited to 20 minutes and no more than three visitors are permitted at each terminal. Each inmate is allowed two on-site visits per week.
Off-Site/Remote Visitation
The CCDC also offers off-site/remote visitation, saving visitors time and eliminating the need for to travel.
Remote Visiting Procedures and Fees
To participate in remote visiting, you will need access to a computer with a web-cam and high-speed Internet OR an Android-based mobile device or tablet. At this time, iWebVisit does not support the Apple iPhone or iPad, however an Apple MacBook laptop is supported. Support for iPhone/iPad is coming soon, so check back regularly for updates. If you have access to this technology, go to iWebVisit.com and create your account. Then, schedule your visit.
Each inmate is allowed four remote visits per day and each visit is 15 minutes long. The cost is $4.50 per visit for standard visitors and $5.50 per visit for qualified professionals who choose to visit via this service. In the event your visit is canceled, a credit voucher may not be issued.
All non-professional visits will be monitored and recorded.
Remote Visiting Hours
Remote visits may be scheduled two hours in advance and can be scheduled up to three weeks in advance. Remote visits are offered seven days a week during the following hours:
7:30 a.m. to 9:30 p.m.
Inmate Accounts
Inmates may have a maximum account balance of $200. Funds must be submitted by Wednesday for commissary orders to be placed on Thursday mornings. There are three options for leaving funds:
Money Orders: These may be mailed or dropped off at the Detention Center lobby during business and/or visiting hours (and by 2:00 p.m. on Wednesday for commissary orders).
Kiosk (Cashier Machine): Funds may be left in the machine located in the Detention Center lobby 24 hours a day, seven days a week. This machine accepts credit, debit and cash. There is a $3 service fee for cash and a service fee of 10 percent of the total deposit for credit/debit. You will need the inmate's file number.
Online: Funds may be deposited online through JailATM. Visit the JailATM website to create an account and make a deposit.
Receipts are forwarded to the inmate for all deposit transactions — generally, the next business day.
For questions regarding the Charles County Detention Center's policy and procedures call 301-932-3103.
Inmate Letters
Please send mail to:
PO Box 1690
La Plata, MD 20646
Letters must be mailed through the U.S. Postal Service.
Letters must have the inmate's full name. Letters bearing nicknames are not accepted.
Letters must include full name and address of sender. Letters bearing nicknames or initials will be returned to the Post Office. Labels are not accepted.
When contacting inmates by mail, only the following items are acceptable:
Letters
Non-embellished, single-fold standard greeting cards
Up to 5 photos per week (Photos must not exceed 4×6 inches and no Instamatics or Polaroids will be accepted)
Money Orders (must be payable to the inmate and must have the purchaser's name and address)
No original envelopes will be given to inmates, all envelopes will be copied and forwarded with the original letter
Examples of UNACCEPTABLE items:
Stickers (including address labels)
Blank paper envelopes
Stamps
Cash or personal checks
Newspaper or magazine articles or clippings
Internet material
Suggestive photos
Puzzle pages
Copies of books
Magazines
Lipstick
Perfume on envelopes
Fluids
Color Artwork
If you are unsure if an item is acceptable, ask the inmate or call the Charles County Detention Center at 301-932-3100 PRIOR to sending the mail. For questions regarding the Charles County Detention Center's policy and procedures call 301-932-3100.
Phone Calls
No message are taken for or relayed to inmates.
Inmates are given the opportunity to make one phone call when there is a change in status.
To receive phone calls from an inmate, the recipient must create an account using IC Solutions, an inmate telephone service. Brochures are available at the Charles County Detention Center and information is available online at www.ICSolutions.com. Contact IC Solutions directly to open an account or if you have questions about the service.
IC Solutions Customer Service: 240-427-5700