Upcoming Teen Court Activities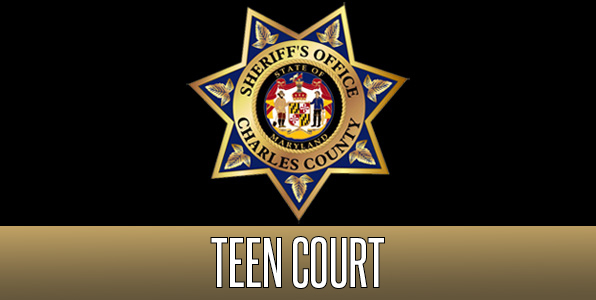 Teen Court has announced a series of fun and educational summer activities. For more information about any of these events, please contact Teen Court Coordinator Sarah Vaughan at 301-609-3916 or by email.
June 9: Teen Court will tour the WJLA/ABC 7 news station! There are only 10 spots available. Registration is required.
The Teen Court group will depart the Charles County Courthouse at 2 p.m. The tour will begin at 4:15 p.m. and will end at 6 p.m. The tour group will go to dinner afterward and then return to Charles County. Please note that because of the itinerary, the group may not return until 9 or 9:30 p.m.
The trip is free but participants must bring money for dinner. Please contact Ms. Vaughan with questions or to register.
June 12: Maryland State Senator Thomas M. "Mac" Middleton will serve as Teen Court's guest judge.
June 21: Teen Court and the Blue Crabs are sponsoring Family Fun Night at Regency Furniture Stadium. Teen Court is offering 40 tickets to allow Teen Court volunteers to take one parent with them to the Blue Crabs game for an evening of family togetherness and entertainment. You must call or email Ms. Vaughan to reserve your ticket.
July 15: Teen Court is hosting a tour of local law enforcement agencies including the Department of Natural Resources Police, the Maryland State Police, the Maryland Transportation Authority Police, the Town of La Plata Police Department and the CCSO. The tour will help foster a positive relationship with the law enforcement community and introduce teens to the history and responsibilities of various law enforcement agencies and potential career opportunities. The event is free but participants must bring money for lunch at La Tolteca. There event will be held from 8 a.m. to 5:30 p.m. There are only 12 spots available.
July 29: Teen Court will host a special field trip, "Operations of a Business" from 8 a.m. to 5 p.m. The details are being finalized but the event will educate teens who are considering starting and operating their own businesses.
Please contact Teen Court Coordinator Sarah Vaughan at 301-609-3916 or by email for more information about these events.